Who doesn't like free stuff? And yes, when it comes to being updated on the latest apps on Android market, most of us surely miss out.
I am not sure of everybody, but most of us come to know about an Android app only after it gets popular. And we also miss out the apps which are actually paid and are offered for free for a period of time.
From now on, the chances of you missing out on getting paid Android apps for free and latest free Android apps in the market. I am talking about a free Android app namely, Spotlight developed by Bluestacks.
Yes, this is the Bluestacks which lets you use Android apps on Windows and Mac OSX. Now the developers have come up with a free Android which would scan Android market and would list out 5 free Android apps every day.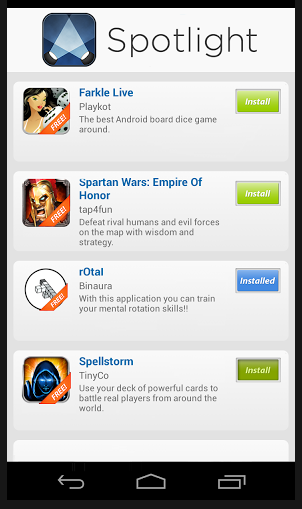 And these 5 Android apps could either be the apps which are available for free on Google Play Store, or the paid apps which are offered for free for a day or two on Android market as a part of their promotion.
All you need to do is launch Spotlight once a day, and you will find the 5 free Android apps there. If its your lucky day, then you might even find your favorite paid app there which could be downloaded for free.
Just tap on the app which you wish to download, and it would ask you to use Play Store or itself. Choose whatever you wish to and that is it. Get Spotlight loaded on your Android device and make the most of free Android app world.