Here is a promotional offer to free download for activation / license code or key for Norman Antivirus & Antispyware.This giveaway offers you with a free 1 year license code for free, which would have actually cost you $49.95.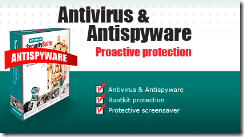 Norman Antivirus & Antispyware is not an unknown name in the corporate sector. It helps you fight against Internet threats like viruses, worms, Trojans, rootkits and spyware. With a user friendly graphical interface, it lets you keep you computer in the best of the condition.
Below are the steps to avail the free license code for free download of Norman Antivirus & Antispyware:
Step 1: Visit the promotional offer page.
Step 2: Now, simply fill the details in the form and click on SUBMIT button. Make sure that you use the below OEM Code:
OEM Code: WXPMASS12-UK
Step 3: Once you click on the submit button, you will receive the code on your mail ID.
Step 4: You can use the below links to download the .exe files
Note: You need to convert the availed license code before using it on Windows 7. To convert the code, visit this page.