In this post, we would be comparing some good and new interchangeable lens camera in the market. On one side we have Nikon 1 J1 and its successor Nikon 1 J2 and on the other end, we have Sony Alpha NEX-F3. Both the Nikon interchangeable lens cameras are the entry level cameras.
And yes, if you are really looking for an entry level interchangeable lens cameras, then you should check out this comparison post, Nikon 1 J1 vs Nikon 1 J2 vs Sony Alpha NEX-F3 HD.
To be honest, there isn't much difference between Nikon 1 J1 and J2 expect that J2 has a better software with more options like more number of shooting modes (Panorama, Selective Color, Miniature, Soft, Night Landscape, Backlighting, and Night Portraits).
Successor gadgets are generally marked with higher prices, but in this case, J2 is cheaper than J1. This could be a part of Nikon's market strategy, that I am not really sure about. But Nikon 1 J2 is worth your money. Lets get to the comparison table now.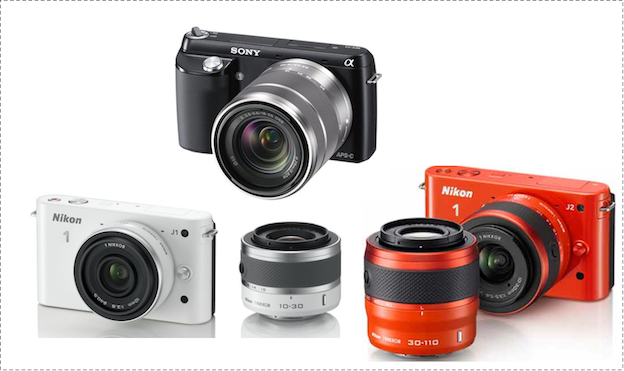 Nikon 1 J1 vs Nikon 1 J2 vs Sony Alpha NEX-F3 HD – Compare Specs
Specifications
Nikon 1 J1

Nikon 1 J2
Sony Alpha NEX-F3 HD

Camera Type
CMOS
CMOS
CMOS
Lens Sensor
10 MP
10 MP
16.1mp Exmor HD
Screen Size
3 inch fixed LCD screen, 460,000 dots
3 inch fixed LCD screen, 920,000 dots
3 inch tilted LCD screen, 921,600 dots
Flash

Optical
Optical
Optical
Continuous Shoot and Crop Factor

5fps
n/a
(60fps with fixed AF and electronic shutter)
5fps
n/a
(60fps with fixed AF and electronic shutter)
2.5 fps
18 JPEG/6 raw
(5.5fps with fixed exposure)
Dimensions

4.2 x 2.4 x 1.2 inches
4.2 x 2.4 x 1.2 inches
4.6 x 2.6 x 1.6 inches
Effective Resolution and Focal Length

13.2mm x 8.8mm and 2.7 x
13.2mm x 8.8mm and 2.7 x
23.5mm x 15.6mm and 1.5 x
Battery
230 shots
230 shots
470 shots
Video
1080/60i/30p, 720/60p H.264 MPEG-4 QuickTime MOV
1080/60i/30p, 720/60p H.264 MPEG-4 QuickTime MOV
AVCHD
1080/60i @ 24, 17Mbps, 1080/24p @ 24, 17Mbps; H.264 MPEG-4 1,440×1,080/ 30p @ 12Mbps
Shutter Speed

1/3 – 1/16,000; bulb; 1/60 sec x-sync
1/3 – 1/16,000; bulb; 1/60 sec x-sync
30-1/4,000 sec; bulb; 1/160 flash sync
Price

$649.95 (with 10-30mm lens)
$549.95 (with 10-30mm lens)
$599 (with 18-55mm lens)