Dropbox is one of most popular clod storage service on the planet. And if you own a Kindle Fire, then this tutorial is going to be be useful if you wish to transfer files from Dropbox to Kindle Fire.
In this tutorial we would be installing Dropbox on Kindle Fire, and once installation is done, we would also let you know how you can use Dropbox on Kindle Fire.
The best part about Kindle Fire is that it runs on customized Android OS. And the fact that it runs on Android norms, it opens up tons of possibilities to install number of apps on it in order to make it more purposeful.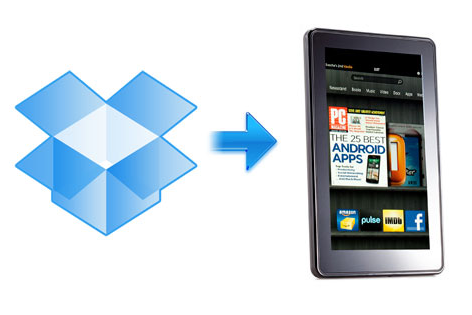 Step By Step Guide To Install Dropbox On Kindle Fire
In order to install Dropbox on Kindle Fire, first you need to tell Kindle Fire that you are fine with installing applications from other sources, so here are the steps
On the top right corner of the homescreen of Kindle Fire, you will see a Gear icon, just tap on it
Now tap on More button to do some tweaking
Scroll down to Device and then turn ON the option labelled as Allow Installation of Applications from Unknown Sources
Now tap on the Agree button to ensure that the settings are saved
Get on to web browser, and open https://www.dropbox.com/android and download the Android app for Dropbox on your ebook reader. Yes, it would download the .apk file
Once it is downloaded, install the same on your device
I suppose that it has been a smooth installation of Dropbox on Kindle Fire and now we are good to use it
Step By Step Guide To Use Dropbox On Kindle Fire To Transfer Files
I am assuming that you have Dropbox installed on your computer, so that we can transfer files to the cloud storage
Copy the files into your Dropbox account that you want to access on Kindle Fire. There is no special way to do it, you can do it the normal way
Now launch QuickOffice on Kindle Fire and tap on Account button
You need to choose your service so that you can access Dropbox. So, choose Dropbox as your favorite service
Just browse and you will find all the files that you have copied from your computer
The other way to access files is using the Dropbox app that you have downloaded in the above tutorial
This is how you can install Dropbox on Kindle Fire and use it on your ebook reader. I am sure that these tutorials are going to solve a lot of your problems.