Here is a free Android app, AndroidVision TV which lets you watch TV shows for free on your Android devices. There are many such apps available on Android Market. Most of them are paid apps, and if they are free then they have got glitches.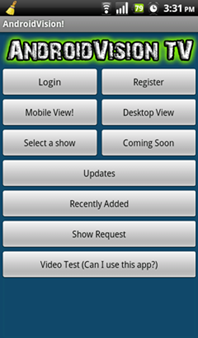 AndroidVision TV is free and free from glitches. It works smooth and is very easy to use. It streams almost all the popular TV shows on Android seamlessly, provided your Android device is connected to a good Internet connection may be Wi-Fi, 4G or 3G.
Once you launch AndroidVision TV, it displays you with the list of all the TV Shows. You can browse through their whole interface, check out the shows that they are offering, tap on the one you want to watch on your Android.
In order to use AndroidVision TV and watch TV shows for free on Android, you need to register to them by either filling up their form or else you can use your Facebook credentials to start using their service. Now that cool!
So install AndroidVision TV, get your device ready and watch TV shows for free on your Android device. You can either download it from the market, or you can use the below QR Code.
NOTE: This free Android app is compatible on Android 2.2. You can use their site to do a Video Test.