We have shared a lot of GPS apps related posts on our blog which includes best GPS apps for iPhone, iPad, Galaxy S3, Galaxy S2, HTC Phone and many more. This time we would like to share the same for Windows Phone smartphones.
The fact that Windows Phone user base is not as huge as Android or iOS user base, a Windows Phone user has a tough time looking for apps. And there are many more factors which add to this. In this post, we would sharing the best GPS apps for Windows Phone.
If you are having a Windows Phone smartphone, then you would surely like this post. We have tried to compile all the good Windows Phone GPS apps (both free and paid).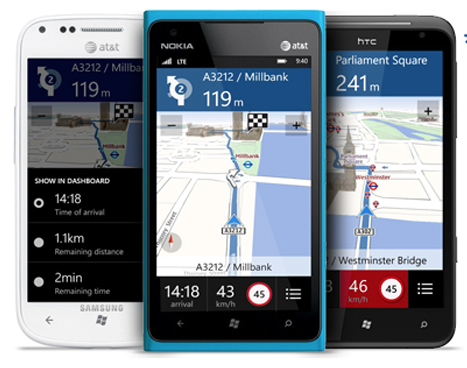 5 Best GPS Apps For Windows Phone
It is a Microsoft product, and this makes it the best platform to publicize its app. And this makes Bingle Maps a part of number of Windows Phone smartphones. Yes, this app is far better than many free GPS apps available in Windows Phone apps market. Whether it would be route line maps, from and to maps, Bingle Maps is simple, suttle and useful.
This might be the exact navigation app that you were looking for. But this app can definitely be tagged as the GPS Swiss Knife as offers you with incredible information at a time which include Compass, Trip Computer, Track recording, GPX, KML, HTML export, SkyDrive integration and the Magnetic declination calculator, obtain your exact coordinates, time zone information and much more.
If you are a Google Maps fan, then you can get this app to access Google Maps. This is not an official Google App, but it does offer you with the basic functionality like maps, StreetView, Latitude as layer on your map. It is a free app, and if you look for an improved version, you can go for its PRO version.
Its a pretty expensive app, but the uses suggest that its worth it as this single app transforms your Windows phone into to powerful and advanced navigation system. In addition to the conventional functions like routes, latest maps it also offers you with traffic live, Reality View Pro, NAVIGON MyRoutes, Active Lane Assistant, Speed Assistant, Safety Camera, Weather Live, text to speech, Google local search, 2D and 3D maps, and much more. Super GPS app!
If you looking for a GPS app which could recommend nearest hospitals, bars, restaurants, atms, hotels, then you should try out this free Windows Phone GPS app. This app basically uses Google and Bing local search to find the required places. A handy app to have in your arsenal!
The Windows Phone app market is growing steadily, and I am confident about that fact that we shall soon have more useful apps in it. But currently, these are the apps that I found very useful in the GPS category. Please share your inputs.