A full fledged Ubuntu desktop on your Android phone. Yes, this catchy line is the creating quite a huge buzz in Android and Ubuntu market. And to be honest, it is something which has amazed every smartphone user.
Now you can have Ubuntu running on your Android which lets you leave your laptop at your home and make the best use of your smartphone resources. Here we are talking about Ubuntu for Android and yes its official.
So what exactly is this all about? Well, this technology lets you dock your smartphone and get it converted into a Ubuntu machine with all the functionalities which include office software, web browsing, email and media applications. Its like an Android smartphone can be integrated with a keyboard and screen to work on world's first free operating system.
If you have wondered why a smartphone must have a powerful processor, bigger RAM and better graphics engine, then here is your answer. With more and more multi core processor powered smartphones coming in 2012, this would surely become a must have app on every Android device.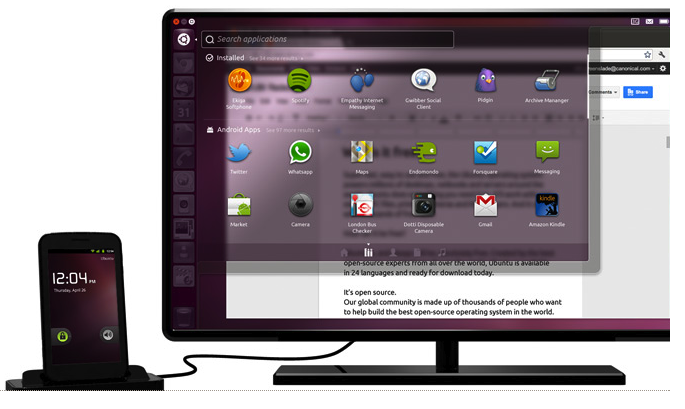 So here are some of the incredible features this has Ubuntu on Android has to offer:
It supports all the popular web browsers which include Firefox and Chrome. And with its malware resistant filters you need not worry about your smartphone infected by virus and other unwanted Internet based parasites. The best part is that you need not organize your bookmarks separately for your Android and desktop.
For an instance, you will having the same bookmarks, browsing history while you have switched from Android to Ubuntu or vice versa.
Access your phone while being used as desktop
Now this is something which would amaze you to the core. If you have been thinking that once you get your Android converted into Ubuntu, whether you can answer or make calls? Then the answer is YES. You can surely make and receive calls and you can even continue your texting business. That is what you call multi tasking.
You would be having a synchronized calendar and address book on your phone (Android) and desktop (Ubuntu). And mind you, this is one of those simple features, which would make your life so much easier.
This application itself comes integrated with number of other applications which would make it a complete desktop computer which include Chrome browser, VLC player, Google Calendar, Google Docs, Thunderbird email client, Android dialer, Ubuntu music player, Ubuntu Photo Gallery, Gwibber.
Smoother social networking
With all the contacts in sync, you can easily browser through your friends' profiles on Facebook, Twitter and other social networks. And with this synchronization, you can check out every online social community in a smoother way.
There is much more offered by this incredible technology. And in order to avail these features you surely need to have a powerful smartphone. Here are the minimum technical specifications required:
1GHz Dual Core processor
2GB of space for OS
512 MB of RAM
HDMI output
Video acceleration – shared kernel driver with associated X driver; Open GL, ES/EGL
Android 2.3 (Gingerbread) or higher
If this thing works out well, then we can see GOOD dip in the laptop market. You can carry your Android smartphone wherever you want and get it converted into a desktop whenever you want. One worrying about synching passwords, bookmarks and stuff.