Android market is getting hotter and hotter everyday. One can see dozens of high end smartphones hitting the market each day and most of them run on Android. And if you planning to buy a super Android smartphone this coming year, then you have to check the below list.
I have compiled a list of best upcoming Android smartphones in 2012. In 2011, we witnessed smartphones powered by dual cores and this year, manufacturers are building smartphones on quad core processors. Did it make you raise your eyebrow.
If we talk about the cons of last year's smartphones, then it would be its battery life and degraded performance in some cases. This year, the Android smartphones would be more powerful with better battery life and high performance.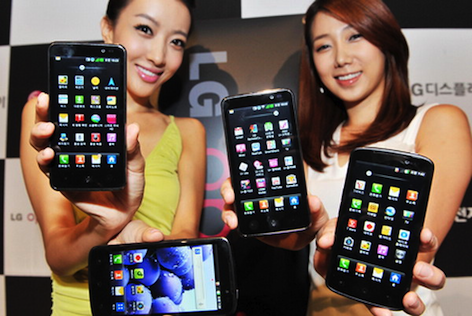 The Best Android Smartphones 2012
ANDROID SMARTPHONES BY HTC IN 2012
HTC Edge

HTC have been the pioneers in the market of smartphones of number of features. And HTC could be the first company to bring in a smartphone running on quad core processor, HTC Edge. Below are the specifications of HTC Edge:
1.5 GHz Quad Core NVIDIA Tegra Processor
4.7 inch display with 720p HD resolution
A powerful 8 MP camera
1 GB of RAM
32 GB of built in phone memory
Android 4.0 Ice Cream Sandwich
Might also feature Bluetooth 4.0
 21Mbps HSDPA network (one of a kind in the market)
Personally, I believe that HTC Edge might turn out to be the THE Champion of the market in year 2012. But yes, things are never won on paper. Until and unless its actually out in the market, I shall rather not speculate.
ANDROID SMARTPHONES BY LG IN 2012
LG has been successful in building its very own Android market. It might not have brought any path breaking smartphone into the market, but its smartphones are surely value for money.
And this year, LG is coming up with X3 which looks like a monster on paper. Here are the specifications of LG X3:
NVIDIA Tegra 3 Quad-core processor
4.7 inch HP screen with resolution of 1280 x 720 pixels
8MP rear camera and 1.3 MP front camera
Android 4.0 Ice Cream Sandwich
2000 mAh battery
ANDROID SMARTPHONES BY SAMSUNG IN 2012
Samsung marked years 2010 and 2011 to its name. With Galaxy S and Galaxy S 2, it ruled the market of Android smartphones. Whether it would be looks, performance or power, Samsung have successfully built a reputation of its own of being known as a trust worthy and safe buy.
It seems Samsung wants to build its Galaxy family more and more stronger each year. And this year, we can witness Samsung Galaxy S 3. Here are its rumored specs:
1.5 GHz quad core processor
1 GB / 2GB of RAM
4.6 inch AMOLED display
12 MP camera
ANDROID SMARTPHONES BY SONY IN 2012
Yes, its not Sony Ericsson now, its just Sony. Sony is generally known for its gorgeous looking smartphones. And in year 2012, it seems story does not change much as it would be pitching in some slim and great looking smartphones.
Sony Xperia S
1.5 GHz dual core Snapdragon chip
4.3? 1280×720 HD display
1 GB of RAM
32 GB of storage
1750 mAh battery
12 MP rear camera
Sony Xperia S is a typical Sony smartphone which is actually noticeable because of its looks not because of its hardware. I am not sure how its dual core processor will compete against super powerful quad core processors.
It does have a good display and incredible camera (just like every another Sony smartphone), but it all boils down to the performance when we talk about smartphones.
ANDROID SMARTPHONES BY MOTOROLA IN 2012
One can expect some incredible smartphones coming into the market labelled by Motorola as Google is heading it now. Google taking over Moto made its intentions clear of capturing the Android smartphone market. May be 2012 is the Google's year.
Motorola Bullet
Runs on quad core Tegra 3 processor
1.5GB of DDR2 RAM
4.3 inch HD display screen
12 MP Camera
16GB in built storage space
Motorola Bullet would prove to be a perfect smartphone for the people looking for the one with good camera. And Bullet's camera looks as good as a high end compact digital camera.
Motorola Jet
Runs on quad core Tegra 3 processor
1.5GB of DDR2 RAM
4 inch HD display screen
12 MP Camera
16GB in built storage space
Sliding QWERTY keyboard
Both these smartphones, Motorola Bullet and Motorola Jet feature one heck of a camera. And Motorola has anyways said during the CES 2012 that they are putting lots of efforts in its sensor section so that its cameras could capture incredible videos and photos of superior quality.