One of biggest disappointment with Apple devices is the fact that it does not let you share files with any other mobile OS like Android and Windows phone.
I have come across a free Android app, which lets you send files from your Android device to any other iOS device. And the developers have suggested that its iOS app would be out soon and it would allow you to send files from iPhone to Android too.
But in this post, we would be talking about the Android to iPhone traffic.
Intro To Fast File Transfer
We do have few apps available which let you do the same, the problem comes when you have huge files to send. But this app named, Fast File Transfer has been designed in such a manner that it proves to be perfect for sending huge files.
This app uses Wi Fi tethering and won't use device's Internet or any common WiFi which makes the whole transfer very fast (20 times faster than conventional Bluetooth transfer).
Fast File Transfer does not have any dependencies on the receiver device type. It implies that you can send big files from Android to any device which has a WiFi connectivity provision.
How To Send Big Files From Android To iPhone
Get on to Google Play Store, look for Fast File Transfer and get it installed
Once installed, tap on it to launch it, enter the device name and password (if you wish to set one, its not mandatory) and tap on OK button
Get on to iPhone or iPad now, and get on to Settings and turn the WiFi ON
Now on your Android device, navigate to any File Explorer where you need to tap and hold the file that you wish to share
On from the menu, tap on Send, Share whichever option is displayed as its version dependent
Now choose Fast File Transfer and the work would start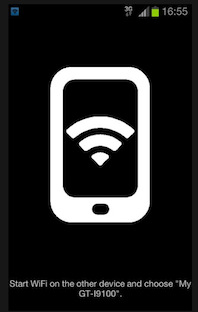 Get on to iPhone again, go to Settings and right below the WiFi toggle, you will see the WiFi connections and one would be named as Fast File Transfer. Just tap on it
Launch a web browser on your iOS and hit the IP Address  that is displayed on the Fast File Transfer screen
You will find the file that is being transferred there on the browser. Just tap on it to download it on your iOS device
That is it! You can use this method to send multiple big files from Android to iPhone.