MSI has launched Movie Station HD100 which is actually a movie streamer (a home entertainment system). MSI Movie Station HD100 is capable of playing movies / videos from USB / Flash drives or external hard drives, which is used with HDTV.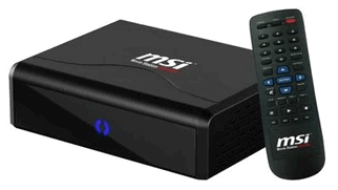 Movie Station HD100 by MSI features HDMI & Component and Composite connections. It is provided with 2 USB2.0 slots, from where USB devices and external hard drives can be connected to play videos and movies.
You can even connect this with your PC via WiFi or Ethernet.
It weighs just 385g and measure 154mm x 116mm x 28mm. With stylish design and shiny black finish, Movie Station HD100 is a elegant looking, powerful home entertainment setup and costs around $142 or 99 Euros.