One can surely label this year as the year of notebooks and laptops, but that does not mean that companies would stop bringing their other computers. Lenovo IdeaCentre is one of the most popular series of all in one computers in the market.
In CES 2012, we have been introduced to Lenovo IdeaCentre B340 all in one computer. And unlike the most of the other all in one PCs, these are not fragile and super gorgeous.
So here we are, comparing Lenovo IdeaCentre B340 and Lenovo IdeaCentre B320
We will find IdeaCentre B340 and B320 decent looking all in one multi touch computers with powerful technical specifications. I won't be surprised if you check out these AIO PCs and say, these computers have got SOME power.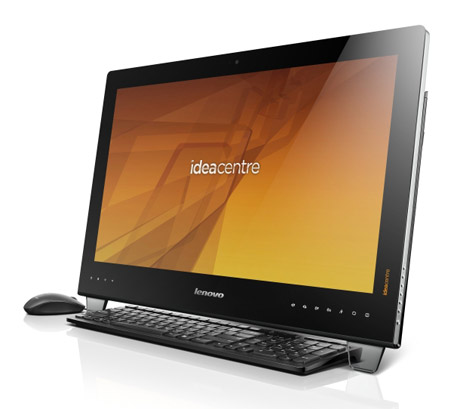 Specifications of Lenovo IdeaCentre B340
Powered by Windows 7 OS
Intel Core i3 / i5 / i7 processor
A 21.5 inch LCD multitouch display with picture resolution of 1920 x 1080 pixels
Runs on 615 M NVIDIA GeForce graphics processor
Powered by 1 GB graphics memory
Packed with 2GB DDR3 RAM
Offers a 500 GB HDD which operates at 7200 rpm
Good connectivity features – Bluetooth support, WiFi- IEEE 802.11b/g/n
720 HD webcam powered by Lenovo High Sense
If you want, you can go with its 3D Vision model
Optical drive which supports DVD+-R/RW, BD-ROM
Features 4 USB 2.0 ports, 2 USB 3.0 ports, HDMI port
2 speakers featuring Dolby Advanced Audio
Dimensions – 542.29 x 392.68 x 118.87 mm
Weight – 12 kg
Specifications of Lenovo IdeaCentre B320
Powered by Windows 7 OS
Intel Core i3 2310M Processor (2.1 GHz)
A 21.5 inch LED multitouch display with picture resolution of 1920 x 1080 pixels
AMD Radeon HD6450, Intel HD Graphics 2000 Graphics Card
Powered by 1 GB graphics memory
Packed with 3GB DDR3 RAM
Offers a 720 GB HDD
Good connectivity features – Wi-Fi, Gigabit LAN, Bluetooth
720 HD webcam powered by Lenovo High Sense
Wireless keyboard and wireless mouse
Optical drive which supports DVD+-R/RW, BD-ROM
Features 4 USB 2.0 ports, HDMI port
Stereo speakers with SRS premium sound
5 in 1 card reader
Dimensions – 396 x 524 x 207mm
Weight – 7.2 kg