Get ready to witness the most happening year with respect to Android smartphones. This year, there are number of Android smartphones coming into the market which are far more powerful and advanced than its predecessors. In this post, we would be comparing specs of HTC Sensation, Motorola Droid 3 and Samsung Galaxy S II.
Yes, this is all about HTC Sensation vs Motorola Droid 3 vs Samsung Galaxy S II. As we all now that Motorola Droid 3 is the successor of the very successful, and popular Motorola Droid and Droid 2 which adds to the Droid family. Whereas, Samsung Galaxy S II is the successor of super hit smartphone, Galaxy S. Apart from these, HTC Sensation is being rated as the best HTC smartphone on the planet.
When it comes to power, it is not just the processor which matters. Things like technology behind its processing power, RAM do make huge impact on the overall performance. And while choosing the best one for you, there are number of parameters which count like, processor, display size and quality, RAM, camera options, battery and the most obvious thing, design and styling.
No wonder it is tough call to make because we have Motorola Droid 3, which is one of most powerful QWERTY Android smartphone series in the market. And we have Samsung Galaxy S II, which promises so much especially after the huge success of its family. And on doubt, like every other HTC smartphone, HTC Sensation also looks so very promising on paper and in the real world scenario.
Below is the specifications comparison of these three promising Android smartphones of the new age. So if you making a choice for you, make sure that you consider your requirements and then the below table shall help you a lot.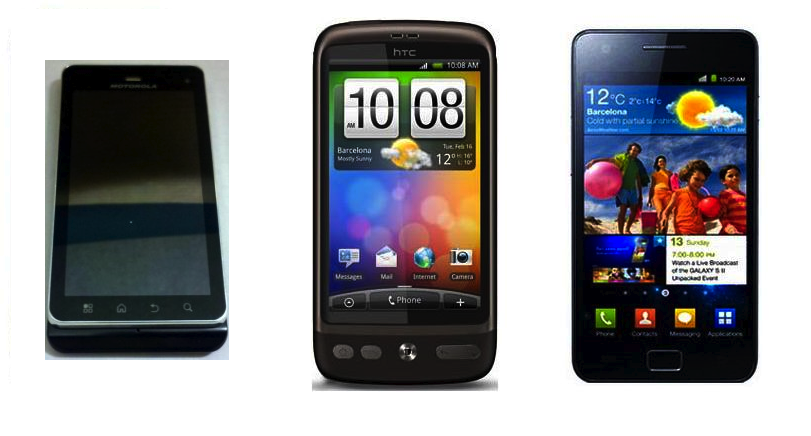 HTC Sensation vs Motorola Droid 3 vs Samsung Galaxy S II – Compare Specs
Specifications
Samsung Galaxy S II
HTC Sensation
Motorola Droid 3

Operating System
Android 2.3 Gingerbread
Android 2.3 Gingerbread
Android 2.3 Gingerbread or Android 2.4 (if it gets released by then)
Processor
1 GHz Dual Core
1.2 GHz
dual-core NVIDIA Tegra 2 processorc/ 1 GHz OMAP 4 processor
Display
4.3 inches WGA
4.3 inches Capacitive
touch screen
4.3 inches qHD Capacitive
touch screen
Display Resolution
480 x 800 pixels
540 x 960 pixels
540 x 960 pixels
Camera
8 MP with 2MP
secondary camera
8 MP with 0.3 MP
secondary camera
8 MP with a 1.3 MP secondary camera
Flash Type
LED flash
Dual LED flash
LED flash
Memory
Built in 1GB with
micro SD slot and
expandable upto 32GB
Built in 1GB with
micro SD slot and
expandable upto 16GB
16 GB
RAM
1024 MB
768 MB
1024 MB
Battery
430 hours of stand by
and 8.2 hrs of talk time
350 hours of stand by
and 8.25 hrs of talk time
–
Dimensions
125.3 x 66.1 x 8.49 mm
126.1 x 65.4 x 11.3 mm
–
Weight
116 grams
148 grams
–
Video fps
30 frames
30 frames
30 frames
Video
720p HD
1080p HD
720p HD
Design
Candybar
Candybar
Side slider