Each and every Android application has its own QR code. So, when you come across any QR Code of an Android app and you want to download it, you can simply scan that QR code and start downloading it. Now, you must be wondering how to scan QR Code on your Android smartphone to download any Android app.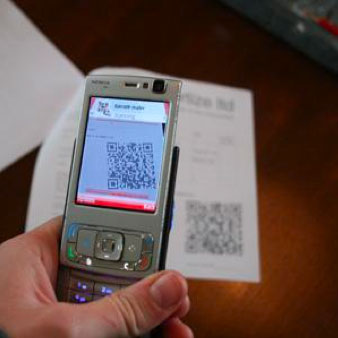 All you need is a QR Code reader like "Barcode Scanner",and then you can easily scan QR code of any Android app and download it. Here is the step by step guide:
STEP 1: Search for the "Barcode Scanner" app ( free Android app) on the Android app market, download it and install it on to your Android phone.
STEP 2: Now, launch the Barcode Scanner app, which will switch the camera on with a red horizontal light on. It is similar to the one that we see in grocery stores.
STEP 3: Now, you need to move your camera in order to scan the whole QR code. Make sure that you place the camera right because you need to properly scan the QR code.
STEP 4: Once your Barcode Scanner reads / scans the QR code properly, it will simply give you an alert that your Android device found a URL. Simply oen that URL using a browser and download it.
Apart from Barcode Scanner, there are number of applications which could serve you while scanning / reading QR codes. Since, this is a free Andriod app and offers incredible accuracy, it is highly recommended. If you use or know any other similar app, you can share with us.