If you are here looking for the answer why you need to root Nook Color, then we might not help you. Because regardless your reason behind getting it rooted, we would be helping you with complete step by step guide to root Nook Color 1.2 and install CyanogenMod 7 Android 2.3.3 Gingerbread.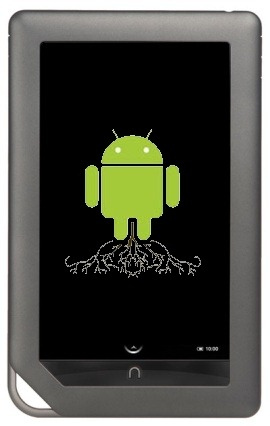 Guide To Root Nook Color
First thing that you need to do is to create a bootable Clockwork Mod SD Card. This step involves you writing the complete Clockwork Mod image on your memory card so that you end up creating a bootable ClockwordMod SD card.
Below is the link where you can read about the whole tutorial in detail.
Tutorial to create bootable ClockworkMod SD
Now its time to the Manual Nooter to the micro SD card. For that, Download Manual Nooter 4.5.18 on your computer and then ZIP file directly to the bootable ClockwordMod SD card that you have created in the above step.
Here is the guide for you help – ManualNooter 4.5.18 (For Stock 1.2)
Now you would be using the Manual Nooter to root your Nook Color. So, turn off your Nook Color and insert the bootable ClockworkMod SD card.
Once done, connect the Nook Color with your computer using USB cable. Now, boot your Nook in recovery mode. Then, choose Install ZIP from the SD card.
Then, browse to Manual Nooter ZIP file and install the same. Once the installation is done, you have successfully rooted Nook Color.
Guide To Install Cyanogen Mod 7  – Install Android 2.3.3 Gingerbread
Before we start with this tutorial, download CyanogenMod 7 ROM for the Nook Color. Make sure that you download the Stable Version of it.
Now, copy the complete downloaded ZIP file to the SD card. Reboot your Nook Color in recover mode again but this time you need to choose the CyanogenMod 7 ROM ZIP.
Once the whole installation is complete, you are done with your task to install Cyanogen Mod 7 on Nook Color. This is how you could install Android 2.3.3 Gingerbread on your Nook Color.