Do you know, how to lock your computer or Windows PC using any Bluetooth device or Bluetooth mobile phone? Locking and blocking the access to your computer is handy trick.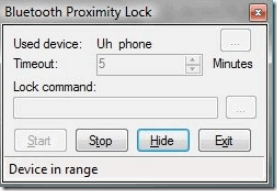 Lock a PC is not a difficult thing, as we have already told you about controlling pc using your Twitter account. However, that we sometimes forget to do so, leaving the computer open and available to anyone, such things come very handy. Here then is a useful program which basically allows you to lock a Windows PC via a Bluetooth device namely, BtProx.
BtProx (Bluetooth Proximity Lock) allows you to automatically lock the PC when the Bluetooth connection is disconnected (so when you get up and go outside the range of the Bluetooth). It can also execute commands at connection or disconnection.
Source Ghacks