The biggest factor which influences anybody while buying a tablet PC is fact that on which OS does it run. One might prefer Android, Windows 7 or MeeGo. Here is Evolve III Maestro, which is the world's first tablet PC which is runs on three different OS which are, Android, Windows 7 and MeeGo.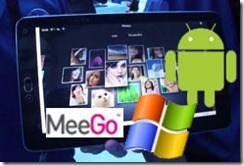 Evolve III Maestro is a powerful trible boot tablet PC with a powerful processfor. Here are the specs of Evolve III Maestro:
1.83GHz Atom N475 DualCore CPU based on OakTrail processor
10.1 inch capacitive touchscreen with resolution of 1024 x 600 pixels
2GB of DDR3 RAM
32 GB of storage space
Battery : With Windows 7, it runs for 8 hours and with Android it runs for 16 hours
Connectivity: 802.11 b/g/n WiFi and 2 USB ports
Right now, it is not confirm that Evolve III would come with MeeGo, but manufacturers are working on it. They even have the combo of pre-release software and hardware were still a little rough around the edges.
You would witness Evolve III Maestro somewhere in Q2 of 2011 with a price tag of $500. If everything works fine, this 3 in 1 tablet PC capable of running Android, Windows 7 and MeeGo would rock the technology market.