BeyondPad is a free Android App which is actually a podcast manager and RSS Feeds reader for any Android powered device.
It is perfect way to check feeds and watch podcasts and manage them on your Android device.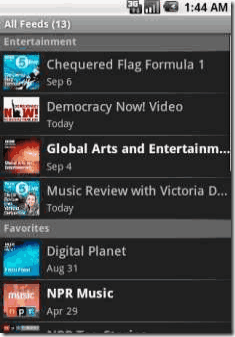 Below are the some of the features offered by this free android application namely, BeyondPad:
Read RSS feeds
Download and listen to podcasts / video casts directly on your phone
Import your feeds from Google Reader
Schedule automatic podcast downloads
Streams podcasts without downloading them
Offers built in media player
Check for the FREE Lite version of BeyondPad in the Android market.