Well, its official now, the first Windows 8 smartphone and it surprisingly its Samsung which has made it official. Irony is that this announcement has just come after Apple's victory Samsung. May be its just a coincidence, but who cares. We anyways got a brand new super powerful smartphone in the market.
A smartphone could have dozens of features, but its just the few features which make the difference. And in this post, we would be talking about such features of Samsung ATVI S, which could really make a difference and let it compete head to head with the other market leaders in the smartphone market.
No wonder, Samsung ATVI S is good enough to compete with the likes of iPhone 4S, HTC One X and may be other Samsung phones like Galaxy S III. Here are some of its features.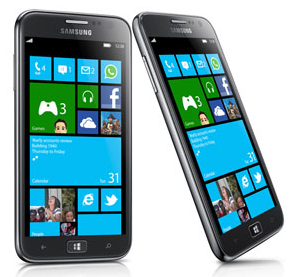 Best Features Of Samsung ATVI S – Windows 8 Smartphone
Super Powerful Snapdragon Processor and powerful RAM

Samsung ATVI S runs on a 1.5 GHz dual-core Snapdragon S4 processor. This Windows 8 smartphone is also powered by 1 GB RAM. Together with a powerful processor and RAM, this latest Samsung smartphone promises incredible performance. On paper, this does look like a beast.
Galaxy S 2 and Galaxy S 3 are known for its Super AMOLED display. And it is a smart move by Samsung that it is incorporating its HD Super AMOLED Display in its high end smartphones. This can be labelled as the USP of Samsung's high end smartphones.
All the powerful smartphones are expected to have superior cameras. Since these phones have heavy price labels, one expect it to feature a quality camera. And its 8 mega pixel auto focus camera is testimony for this fact. And its LED flash guarantees to capture images of incredible quality even in low light conditions.
The most noticeable feature of Samsung ATVI S is that it runs on Windows Phone 8. There have been many improvements from its previous version, Windows Phone 7.5 Mango. Although, Windows has failed to prove its existence in the market of smartphones, but Windows Phone 8 does look promising. With better user interface, IE 10, HTML 5, developer tools and much more. Lets see, how it turns out to be.
Its a pretty piece I tell you. With glossy aluminum chassis, this 8.4 mm thick smartphone is prettier than the other gorgeous that Galaxy S 3 and may be iPhone 4S. Its design cannot actually be put in words properly. You should rather have a look of this smartphone with your own eyes.