We give you the list of 7 best and top free Twitter Apps / Clients for Google Android OS powered phones as Android phones are the future Smartphones.  Social Networking has become a vital part of modern lives and Twitter leads the list of popularity. Whether it would be movie stars, sports men, sports women, musicians, politicians or common man, everybody uses Twitter.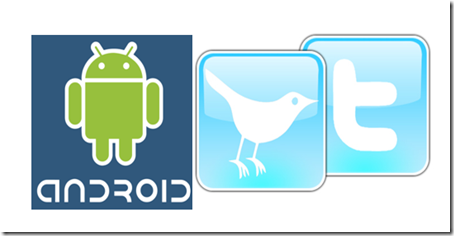 Now people are using Twitter everywhere and this lead to the development of Twitter Clients for mobile phones and smartphones. With the increase in the popularity of Google Android OS, all the modern Smartphones are Android powered phones.
We have already listed best classis games for Android powered Smartphones.
So we give you some of the best and top Twitter Applications / Clients For Android phones. Here are they (alphabetical order):
Seesmic is by far the best alternative for Tweetdeck ( Desktop Client for Twitter), and this shows its capability and popularity. Coming to its design, Seesmic used its very own grey, black and red colors for this Twitter app for Android phone.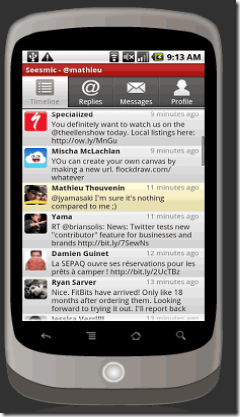 Its amazingly user friendly and gorgeous graphical interface lets you read and send your tweets, direct message in an easy and comfortable manner. This Android Twitter App uses services like yFrog, Twitvid or YouTube to upload videos, which is truly exceptional. Seesmic is one powerful Android App as Twitter tool which might be just what you are looking for.
One of the most attractive factor about Swift being one of the better Android based Twitter client, is its incredible user interface. With all the options and functions on the Menu, you can experience the ultimate Twitter-ing right from the go.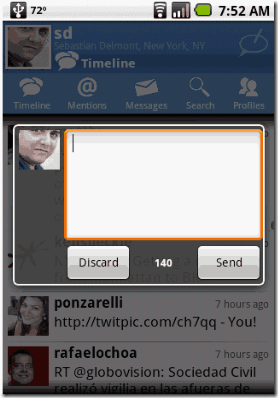 And the other major reason behind Swift being loved by everyone is its Speed. It is able to load things quickly compared to many other Twitter Clients for Android phones. It offers few more wonderful features like resending the tweet automatically if it fails to send in the first attempt, its capability of displaying the ACTUAL url before even opening the shortened URL.
The key behind the success of any application for Twitter is its interface, and Twit2go offers pretty good user interface which works well on trackballs as well as touch screen smartphones.
The whole application gives you a pleasant feeling and lets you to tweet, retweet and direct message your friends. This Android app gives you latest updates and mentions.
Twitli is not more application for your Android phone which will let to access all the basic features of Twitter such as reading and sending tweets, retweeting and handling direct messages.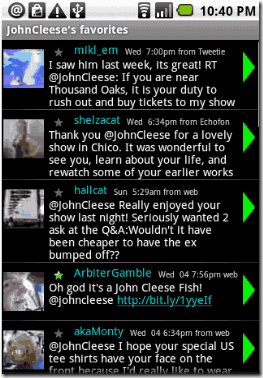 Since it is a basic Twitter tool, it has nothing much to fantasize you but surely provides enough features to enjoy Twitter-ing on your Android powered Smartphone.
Share your comments & let us and others know about these or any other Twitter Clients that you use.
This is one powerful and a very popular Android application meant for all your Twitter needs. Its clean and easy to use interface let you handle all the Twitter options in an easiest manner. It offers shortcuts to all the options like Home, @Mentions, Direct Messages, Search, and Refresh.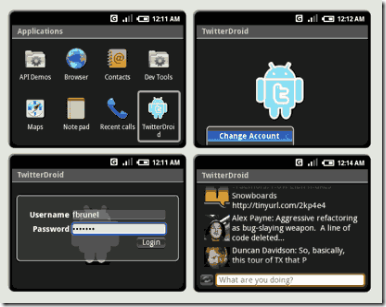 Twitdroid is totally flexible and lets you customize the settings as per your comfort levels. Its other offerings include search option, notifications, URL shortners, photo uploading facility. It is a sound and robust Twitter App for Android powered phones.
I should call TwitterRide one solid Android based application meant to access Twitter from your Smartphones. There are few things which make Twitter a completely loveable and powerful Twitter app which include easy Tweeting, retweeting, replying, and Direct Messaging.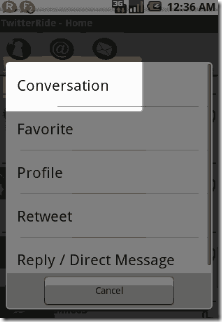 It is a clean and user friendly Android app, with all the options right on the interface that offers you a better and smoother Twitter experience.
Xeeku is advanced Twitter app for Google Android phone which offers you with number of interesting and unknown features. Apart from conventional Twitter asks like tweeting, retweeting and direct messaging, Xeeku lets you share your tweets via Gmail with all those friends who do not use Twitter.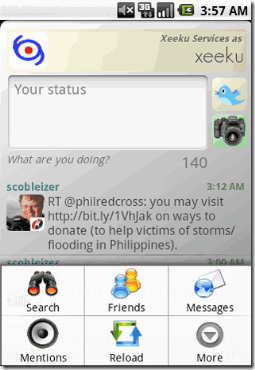 It also lets you upload and share pictures, know about trends and also save searches. Xeeku even allows you to view all the recent conversations lined up infront of you. This Twitter client offers you with so many options that you can explore and exploit Twitter in every possible sense.