No gadget is flawless and so are Android devices. There are number of problems that every Android device owner face, but if you have a Samsung Android device, then here is some good news for you.
Here is some amazing info on how to troubleshoot Samsung Android devices. Yes, we would be sharing an amazing app with you which would help you fix issues on Samsung Android devices.
There are number of issues that one face on Android devices which include battery problems, camera issues, connectivity problems, issues with Android market and many other.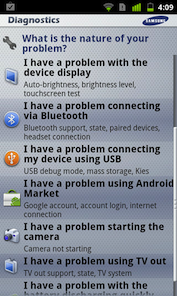 So, if you are facing any issues on your Samsung Android device, then you can use this app to fix issues on your device. Samsung has officially announced its app, Diagnostics which would help fix number of issues.
All you need to do is launch this app and it will display you with all the problems that you might be facing. And once you click on any of those problem, it would direct you with the steps to fix the issue.
And if this app is not able to troubleshoot problem on Samsung Android device, then it would direct to the Samsung Online Support which would offer you with Live Support to fix the problem.
What I liked about this amazing app is that it is so very easy to use. And the app is so well made that it would let you fix all the basic problems without any help from Online Support.
So, if you are owning a Samsung Android device, this is like the best and must have app as it lets you troubleshoot issues on Android device, which is nothing less than a boon.