As per the reports, Toshiba is working its upcoming Core i3 and Core i5 powered tablet PCs namely Toshiba Portege M780. These Toshiba tablet computers are surely the powerful ones.
Specifications of Toshiba Portege M780:
Intel Core i3 / i5 processor
8GB DDR3 RAM
12.1 inch LED backlit display with a picture resolution of 1200 x 800 pixels
DVD burner
Fingerprint reader
HD webcam
Wireless and Bluetooth connectivity
Windows 7 OS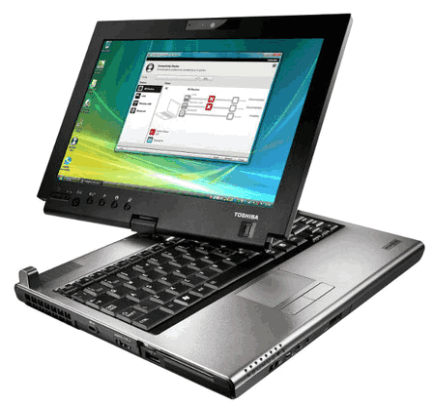 Processor
Toshiba Portege M780 is expected to powered by Intel Core i3 / i5 processor. And this will mark M780 in a special group of convertible tablet PCs which are powered by Core i3 or Core i5 processors.
Display
Touchscreen technology of any tablet PC is very crucial. Toshiba Portege M780 features a 12.1 inch LED backlit display with a picture resolution of 1200 x 800 pixels. And amazingly, it recognizes Windows 7 Touch Gestures.
Memory
Portege M780 will be powered by 8GB DDR3 RAM which is not less than that of any powerful gaming desktops. And this is evident to the fact that Toshiba is about to bring a sheer powerful tablet PC into the market. And its hard drive will let you handle all the data in an easy manner.
Additional Features
This convertible Tablet PC namely, Toshiba Portege M780 weighs just about 2kg and offers you with a tough case and a spill-resistant keyboard.
It features some of other technologies like fingerprint reader, HD webcam and DVD burner. And Portege M780 convertible PC offers you with Wireless and Bluetooth as connectivity options.
Verdict
Toshiba Portege M780 convertible tablet PC is surely one of those tablet PCs which offer you sheer power which is truly amazing. It is expected to hit the markets in Europe and Africa after March.