We all love apps and games, and regardless of our age, playing games on our iPad is something we do on a daily basis. It's impossible to keep kids away from technology, especially if you're a tech savvy parent who enjoys smartphones and tablets. The app market is filled with amazing games for kids, so if you want to keep your toddlers busy while you make dinner, here are some iPad games you should download on your iPad.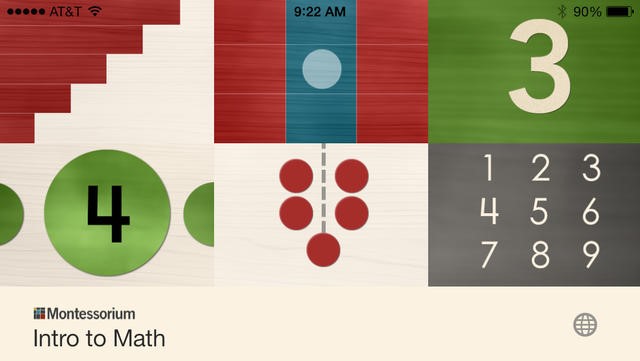 Intro to Math
Kids should develop an interest in math from a very early age. Intro to Math is an excellent app to download on your iPad. It was created by a group of skilled Montessori educators, and it uses virtual wood blocks to teach kids basic match principles. It will certainly capture your toddler's attention because it is both fun and educational. It approaches basic math concepts by making use of simple sorting puzzles everyone will enjoy.
Shape Builder
Shape Builder costs $0.99 in the app market but it's worth every dime. It has over 150 drag & drop jigsaw puzzles for savvy kids fond of such ingenious games. The puzzles are associated with illustrations, and after your kid completes one he will be rewarded a colorful image. Shape Builder is also an excellent vocabulary builder because it has a voice incorporated that mentions the image created.
AniMatch
Suitable for kids with ages between 3 and 6, AniMatch is a common matching game in an animal-themed version. Featuring big buttons and simple navigation, the game is a must-have for every toddler. The super funny animal sounds and beautiful graphics will certainly keep your kids busy for the entire day. Apart from the adorable visuals, AniMatch is educational; it helps develop concentration, memory and cognitive skills.
Sound Touch
Although a bit more expensive than most apps for the iPad ($4.99), Sound Touch will certainly exceed the expectations of your kids. It comes with 372 pictures with corresponding sounds. When you tap on an illustration, a specific sound will emerge. The app features animal, vehicle, and musical sounds. It's surely the type of app every toddler craves to have. Simplicity is vital to a successful game or app for kids. Sound Touch is exactly what you need because it's so easy to handle and understand.
Little Digits – Finger Counting
Teach your kid how to count with Little Digits. The super fun app puts a new spin on the whole idea of counting with the fingers. It uses the multi-touchscreen of the iPad to display number characters by sensing how many fingers have been placed down. Ergo, toddlers will easily learn to associate the number of fingers placed down with the number on the iPad's screen.
Birthday Party Playtime
Kids love birthday parties because they're fun, colorful and entertaining. Birthday Party Playtime is another app from parenting magazine that follows their earlier Toca Tea Party app. It lets your kids have a birthday party any day they want, and they can gather around and share imaginary cake. The app is attractive and easy for kids to use. Suitable for kids age 3 and up. Are you ready to have a good time with your precious kids?
There are so many iPad games for toddlers in the App Store that it's sometimes very difficult for parents to choose only a few. The amount is just overwhelming, and the ones we mentioned above are truly among the best. Apart from being extremely fun and entertaining, they're also educational. Believe it or not, there are great apps and games out there meant to develop your child's memory and cognitive abilities. You just have to know which ones are worth buying.
This article is authored by a frequent writer and video gamer John Smith. He has a great passion to play different online games. He has also joined an online gaming site Truck Games 365 as a content writer.