If you are an avid racing games lover, then you need to gear up with racing accessories for PC because once you experience racing games on PC with complete racing simulators for PC like racing wheels and pedals, you will find real bliss. We have compiled a list of 5 best racing wheel and pedals for PC.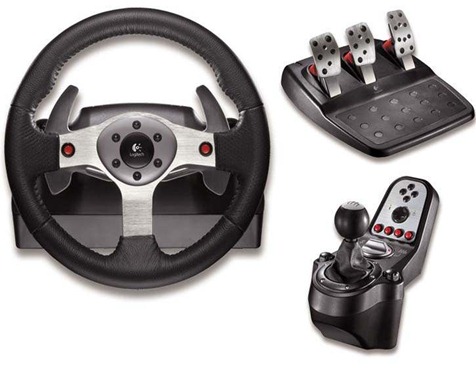 There are number of racing games available in the market, and to make of best of those games, you have number of racing wheel and pedals too. So, if you are skeptical while taking a decision to buy a good racing wheel pedal for you, this list of top 5 racing wheel and pedals for PC would help you:
FANATEC PORSCHE 911 GT3 RS WHEEL
Do you love Porsche? Have you ever dreamt of driving a Porsche recklessly on roads? Then, Fanatec Porsche 911 GT3 RS Wheel is the PC racing wheel that you are looking for. This racing gear has got three-pedal and 6+1 H-pattern shifter set which makes it a complete racing equipment for your PC. And its 900-degree mode lets you experience real racing thrill. Porsche 911 GT3 RS Wheel is a limited version racing gear for you PC and would cost you $299 and you could upgrade it with extra $50.
GENIUS TWIN WHEEL F1
If you are looking for a cheap racing wheels for PC, then Genius Twin Wheel F1 could be a great option for you. It costs under $50 and with features like force feedback for vibrations, D-pad, four action buttons, separate unit with brake and acceleration pedals for the floor, this is a great PC racing steering wheel option.
LOGITECH G25 RACING WHEEL
When it comes to PC accessories, Logitech is a huge name. They are experts in manufacturing amazing gaming accessories for PC. Logitech G25 racing wheel is the best PC racing wheel and pedals in the market. This steering wheel offers 900-degrees of turning lock-to-lock and dual motor force feedback. It has also got a six-speed shifter model which comes with set of three weighted pedals, accelerator, clutch and brake. This racing steering wheel for PC has got a price tag of $499.
LOGITECH MOMO RACING WHEEL
These racing wheels for pc is a collaborative effort of Logitech and racing experts MOMO and this ensures ultimate racing experience for racing gamers. It offers you with 240 degrees of rotation and 6 programmable buttons. You also get a separate unit of brakes and accelerators with this PC racing wheel and it costs just under $100.
MICROSOFT SIDEWINDER PRECISION RACING WHEEL
This PC steering wheel would definitely come into your budget. With a price tag of $30, this gaming equipment would never disappoint you. You would not have a gear rod / stick to change gears, which is infact substituted by a couple of triggers. And it comes with 8 programmable buttons which makes this a good enough racing wheel for PC.
Apart from these 5 PC steering wheels, there are number of racing wheel and pedals for PC which are amazingly good to get listed here which include names like
Trust GM-3100R Steering Wheel

Thrustmaster Rally GT Wheel

Logic3 TopDrive GT Wheel

Thrustmaster Ferrari GT Racing Wheel

Interact V3 Racing Wheel

Dexxa Steering Wheel with Foot Pedals

Guillemot Lenkrad TM Ferrari 430 FFB