We would be talking about the three most powerful and gorgeous laptops in the market. Yes, we are talking about Sony VAIO , Samsung Series 9 and Apple MacBook Pro. We would be comparing the specifications of all these three laptops so that it gives you a clear idea about the laptop which is meant for you.
Yes, this is a battle of the fittest and the battle is between, Sony VAIO Z vs Samsung Series 9 vs Apple MacBook Pro. There are number of things that you look in a laptop computer and this post would let you compare all the above mentioned laptops for different parameters. And then based on your requirements and budget, you can get to decide the one for you.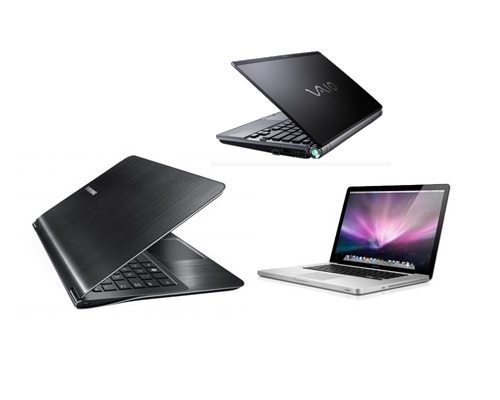 Sony VAIO Z vs Samsung Series 9 vs Apple MacBook Pro
PROCESSOR
Sony VAIO Z would be featuring a 2.66GHz Intel Core i7-620M processor. And with 1.5 GHz Intel Core i5 processor of Series 9 and 2.0GHz or 2.2GHz quad-core Intel Core i7 processor of MacBook Pro, it is quite clear that Apple wins the race in terms of power. But again, this is very subjective. If you are not comfortable using Mac OS, then there is no point in having so much power packed inside your laptop if you do not know how to tap it.
DISPLAY
For many users, display screen is one of the most important parameters when it comes to choose a better laptop. MacBook Pro has 13 / 15 / 17 inch LED-backlit glossy or optional antiglare widescreen display, Samsung Series 9 features a 13.3-inch HD LED-backlit SuperBright Plus display where as VAIO Z features 13.1 inch LED Backlight display. So, here comes your preference as there is not much of difference in any of the laptop display screens.
GRAPHICS
If you are into multimedia or gaming, then you surely require a powerful graphics support. If you go with Series 9 laptop, it would offer you with Intel HD GT2 Integrated Graphics. Whereas MacBook Pro features AMD Radeon HD 6750M graphics processor with 1GB of GDDR5 and VAIO Z packs NVIDIA GeForce GT 330M GPU (1GB VRAM) with Intel Graphics Media Accelerator HD Intel HM57 Express Chipset. Now, it again boils down to your preference. At one end you have a powerful Mac and other side you have a couple of powerful Windows laptops. So, keep this is a point to ponder while you take a decision.
STORAGE and RAM
Yes, without heavy RAM, even a powerful processor wont serve you well. So while choosing a laptop for you make sure you go with the one offering higher RAM specs. Apple MacBook Pro runs on 4GB (two 2GB SO-DIMMs) of 1333MHz DDR3 memory although you can upgrade it to 8 GB. And it offers you with storage of 500 GB and if you want to get it increased, you need to shed your pockets little more.
Now, Series 9 features 4GB DDR3 RAM with 128 GB of Solid State Drive as storage space. And on the other side, Sony VAIO Z features, 512GB of storage space with 8GB DDR3 SDRAM. If you take the this section, then VAIO Z wins the battle. But it again might vary on your budget and requirement.
DESIGN
I need not tell you the fact that these laptops are the most gorgeous looking laptops in the market. So what catches your eye wins the race. Series 9 is the thinnest and most light laptop on the planet. And I need tell you about the looks of a MacBook Pro because of which it got popular. And Sony VAIO laptops were never criticized for its looks as they fall under the category of the best.
CONCLUSION
Now there are other factors too which might influence your decision which are the battery life, connectivity options, HDMI support, dimensions, weight, and price. So, whichever fits your needs, catches your eye and at the same time it should not hurt your pocket.
We hope this post on Sony VAIO Z vs Samsung Series 9 vs Apple MacBook Pro would help you to decide the better one for you.