Last week new Sony S540 Walkman was unveiled in United States of America and the company is all set to launch it worldwide in September 2009. If you are thinking why is it getting so much of attention? Then i would answer it by saying, "It is truly worth it."
Sony S540 is first of its kind. If you want to rock your surroundings by your favorite music, then Sony S540 is the what you need. It is the first Walkman Video MP3 player with high quality in-built speakers. It comes with a wonderful 2.4-inch LCD which enables you to watch your favorite video clips and movies with 6.5 hours of video playback. This amazing player is capable of playing a wide range of media formats which include AAC, MP3, WMA and WMV
Its sound system is facilitated by Digital Linear Phase Speaker System which generates the sound of tremendous quality, regardless you are listening on headphones or switching on its speakers. It provides an amazing control over its sound settings. Sony S540 has 42 hours  of music playback.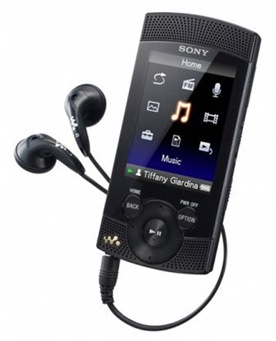 Following are some of its highlights:
2.4? display
Integrated microphone
Record voice notes
Pair of stereo speakers
Built-in FM radio
Video file formats include H.264, MPEG-4 and WMV
Audio file formats include AAC, MP3 and WMA
Sony S540 will be available in 4 different colors: black, pink, violet and  red. Sony is planning to release 8GB and 16GB models which would approximately cost about $110 and $130 respectively.
Although it is the fourth generation MP3 player, but it comprises of all the basic features that a typical Sony MP3 player offers. This makes it a highly recommended music player. Whether you are in love with Sony Walkman series or not, Sony S540 Walkman will surely enhance your love.