A current design offers the latest exciting energy saving features. The Sony KDL-32EX721, an amazing TV  with the ability to display 3D images. The design follows the style of some models of the Bravia series, with a sleek black finish. The bracket allows the TV turn twenty degrees right and left, or even tilt it back. The display consists of a backlit LCD panel type LED Edge (LEDs on the sides), enabling it to achieve a more stylized, with a depth of 4.2 cm.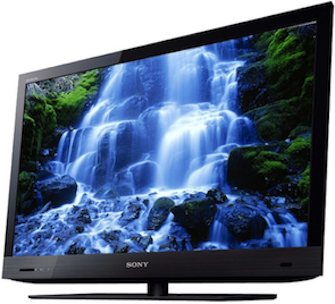 The Sony KDL-32EX721 is a 32 inch size 3D television, with a resolution of 1920 x 1080 pixels (Full HD) that allows us to enjoy 3D movies using active glasses. The KDL-32EX721 features a Freeview tuner and high definition media player USB with which you can view videos and photos from an external hard drive or pen drive. This player can also read audio files in mp3. We can also record TV programs on your hard drive or memory stick to view them as more we want.
The Wi-Fi is one of the strengths of the Sony KDL-32EX721. With this we can access the Internet or Internet portals like Bravia Internet Video Widgets and download applications or enjoy music and video on demand. In addition, the KDL-32EX721 comes with the Skype application, for videoconferencing over the Internet. Also, thanks to DLNA connection, the KDL-32EX721 can share media wirelessly with other compatible devices through a Wi-Fi.
An interesting detail are its light sensors. These devices help to contain spending power by adjusting the brightness automatically according to ambient light in the room or turning off the screen when you leave the room, switch on to standby mode if not to come back after a while.
As for connections, find four HDMI inputs (one on side and three on the rear panel), side two USB, Ethernet, component video inputs, D-Sub for PC with mini -jack for audio, card slot for pay channels, input and output analog audio, headphone jack and digital audio output optical fiber. The Sony KDL-32EX721 is now available at a suggested retail price of 1,000 euros.