Amazon Kindle 2 is undoubtedly the most favorite eBook reader and if you are looking for its Shortcut Keys / Hotkeys for Kindle 2, then here are some.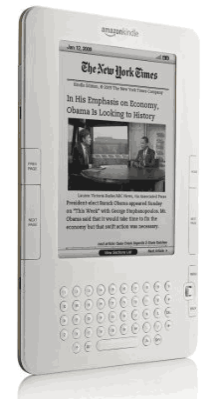 This year we have witnessed some outstanding ebook readers, but Kindle 2 have undoubtedly proven its metal in heavy competition. Below are the Shortcut Keys / Hotkeys for Kindle 2:
Shortcut Key
Result
Alt + B
Bookmark
Alt + T
Spell out time
Alt + Next Page
Jump ahead by 5%
Alt + Prev Page
Jump back by 5%
Alt + T
Show time
Number keys
Jump to corresponding page in the Home Menu
Alphabet keys
Jump to corresponding page from alpha-sorted Home Menu
J
Show/hide justification options
Alt + Home
Go to Amazon Kindle Store
@store 
Store search shortcut
@web
Web search shortcut (Google)
@wiki 
Wikipedia search shortcut
@time 
Show current date and time
@author[author's name]
Search Content by Specific Author
Alt + G
Refreshes the screen
Up Arrow + SYM button
Turns on/off Text To Speech.
Alt+shift+G
Creates A Screenshot
Alt+shift+1-9
Changes the spacing and number of lines per page
ALT + Space
Play or stop background audio
Press MENU button
Display the time
Press MENU button
Display free memory
Press MENU button
Display wireless network (3G or 1X, if wireless is on)
Shift+ALT+M
Play Minesweeper (from home page)
Slide and release the power button
Put Kindle to sleep or wake it up
Slide and hold the power button for 4 seconds
Power off
Slide and hold the power button for 15 seconds
Reset
From Settings Menu, Enter 411
Show Diagnostic Data
Alt + F
Next song
ALT+spacebar
Play or stop MP3 Audio
Spacebar
Pause Audible Audiobook
 
 

In the Picture Viewer:
C 

F 

Q 

W

R 

E

Pan Photo Larger Than Screen

Toggle Actual Size

Toggle Full Screen

Zoom In

Zoom Out

Rotate

reset zoom level

Use 5-way controller to pan photo

Alt + 1
Show Current Location in Google Maps
Alt + 2
Find Gas Station Nearby
Alt + 3
Find Restaurant Nearby
Alt + 5
Find custom keyword nearby
Alt + D
Dump debug info to the log and toggle highlight default item
Alt + Z
Toggle zone drawing and shoe log
These are some of the Shortcut Keys / Hotkeys for Kindle 2 which will let you use your ebook reader with extreme ease and fun. Try them and share if I have missed any of the shortcut keys.