Both Apple and Samsung stand tall in the market of tablet PCs. Galaxy Tab and iPad have rocked the technology and gadget world. Both these tablet PCs faced neck to neck competition from each other and both ended as successful gadgets. So this year, it would be Samsung Galaxy Tab 2 or Apple iPad 2.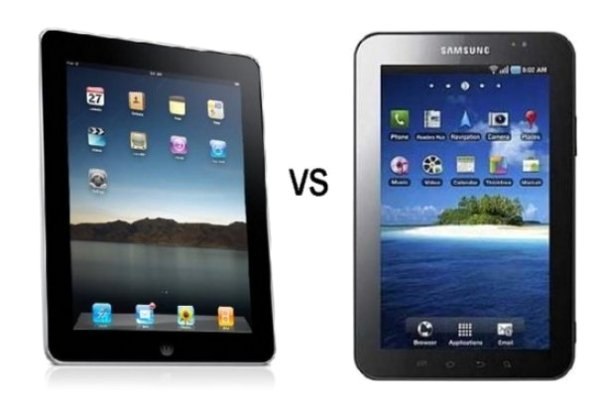 Samsung Galaxy Tab 2 vs Apple iPad 2
Display
When you make a decision between tablet PCs, display screen is the biggest factor. All you want is perfect touchscreen with perfect display features. Just like iPhone 4, Apple iPad 2 would feature Retina Display with picture resolution of 2054 x 1536 pixels.
On the other side, Samsung Galaxy Tab 2 is rumored to feature3D display. And if its true, then Galaxy Tab 2 would win this section convincingly. It would be offering a display screen with picture resolution of 2048×1200 resolution pixels.
Processor and Graphics
Apple iPad 2 could run on Apple A5 dual core Cortex A9 processor. And with SGX543 graphics support, iPad 2 could turn out to be a mean machine.
This year, Nvidia could be introducing Tegra 2 3D processor and we could witness this 1.2 GHz processor in the Galaxy Tab 2.
Power
Well, this is the section which is completely open because currently there is no information about the RAM that would be powered up in iPad 2. Where as, Tab 2 tablet pc would feature a 1GB RAM.
Operating System
Galaxy Tab 2 could be running on Android 2.3 Gingerbread or Android 2.4 Honeycomb. It completely depends on the release of this tablet PC. Where as, iPad 2 would be running on its powerful, stable, and trustworthy iOS.
Camera
Apple never gave much importance to the camera in its devices as its touchscreen technology ruled the world. But with increasing competition and more and more tablet PCs coming into the market, Apple has finally realized the importance of inclusion of camera.
Samsung Galaxy Tab 2 would feature a 8MP-rear facing camera and 3MP-front facing camera which is way better than Apple iPad 2's 1MP rear camera and 0.3 MP VGA front-facing camera.
And if Galaxy Tab 2 would end up with HD recording feature, then this tablet PC could be named as the better tablet PC on the paper.
So far with the information we have, I would surely go ahead with Samsung Galaxy Tab 2. But you never underestimate Apple. They always come up with something big, innovative and unique that takes it to heights. So its Samsung Galaxy Tab 2 or Apple iPad 2? Wait, as time will surely clear this picture.
Check out more about Official Apple iPad 2.