Sager Computers has lunched its new notebook namely Sager NP8760. NP8760 is a powerful gaming laptop computer. This Sager notebook / laptop is powered by Nvidia GTX 280M graphics making it a complete entertainment laptop.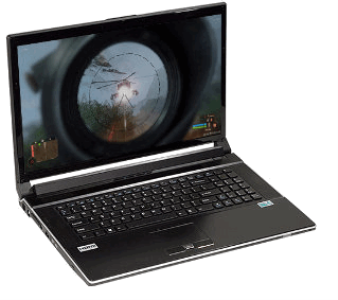 Sager NP 8760 notebook is a monster mini laptop with its configuration. And it has a 17.3 inch display screen. Its 8GB RAM makes is faster and killer laptop computer by Sager.
Click here to check some of the gaming and entertainment laptops.
Below are the specifications of Sager NP8760 Notebook:
17.3-inch display with LED backlighting with 1920×1080 resoultion
Intel Core i7 920XM processor
8GB DDR3 RAM
Nvidia GeForce GTX 280M 1GB graphics card
500GB 7200RPM hard drive
Built-in Bluetooth 2.0+ wireless
Windows 7 Ultimate 64-bit
Weight: 8.35 lbs
Dimensions: 16.25" x 11.0" x 1.69"
This amazing gaming laptop by Sager, NP8760 will cost you around $3,574 and justifies the cost to a great extent.