A brand new powerful gaming laptop has been introduced into the market during CES 2012. And I am thrilled to tell you that this laptop is good enough to beat any high end laptop being sold in the market.
By the way, this super laptop that I am talking about is called, Razor Blade. In this post, we would comparing this latest addition to the powerful laptops and my favorite, Apple MacBook Pro. Yes, this is Razor Blade vs Apple MacBook Pro. In this post we would be actually considering MacBook Pro 17 as reference.
Without wasting much of time, lets get into this comparison post which would surely give you a clear picture between these powerful laptops.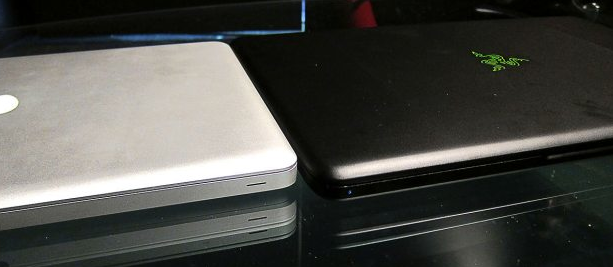 Razor Blade vs Apple MacBook Pro – Compare Specs
Design
MacBook is known for its gorgeous looks. With aluminum body, it possess a smooth and sharp looks. And with its Apple Logo, this machine looks mind blowing. On the other side, Razor Blade goes on similar line considering its make, but instead of white, it is pure black. MacBook Pro 17 weighs 2.99 kgs and measures 15.47? x 10.51? x 0.98? whereas Razor Blade weighs 3kg, measuring 16.81? x 10.9? x 0.88?.
Yes, Razor Blade is thinner than MacBook Pro. And its taller, bigger and has bigger display.
Touch Pad
I have been using MacBook Pro 13 since an year and I totally love its track pad. I love the way it lets me use my fingers to control it ;). There are so many things that Mac lets you do using your fingers. Its not only fun using it, but also makes things so much easier.
Since Razor Blade is basically a gaming laptop, things are different when it comes to its track pad. It is actually based on Razor Switchblade, which is a gaming device with a LCD backlit and adjustable buttons.
It means that you can use it as a track pad and as well as a secondary screen. Yes, you can watch videos on the 3 inch LCD display while you are playing or working on its main screen.
This concept by Razor Blade is unbelievably incredible if you are a right handed. But if you are a lefty, then you cannot consider this option, as using it with a left hand is totally super natural.
Processor
MacBook is powered by quad core processor whereas Razor Blade uses a dual core processor. Well, based on your requirement, you can surely go with the one you want as both the processors are available in i3, i5 and i7 models.
If you wish to talk about performance, then no doubt MacBook Pro is capable of offering far better performance than what Blade can. But I am not sure, there aren't many applications available in the market which use more than two cores which squares the whole discussion. But yes, Mac machine is more powerful as is powered by 2.4GHz 6MB L3 Cache/2.5GHz 8MB L3 Cache i7 Quad Core than the 2.8GHz 8MB L3 Cache Dual Core processor of Razor Blade.
RAM and Storage

A gaming machine must and should have a powerful RAM and 8GB RAM of Blade is quite justifiable for the purpose it has been designed for. And coming to MacBook Pro, you can either go with 4GB or 8GB.
If you want to go with Razor Blade, you do not have any options while choosing its storage space as it comes with only 256GB of SSD. Whereas, with MacBook Pro, you can go with 750GB also.
Graphics
Razor Blade is primarily a gaming machine, and its NVidia GT555M graphics support with 2GB video RAM speaks for it. Where as, MacBook Pro features AMD Radeon HD 6770M graphics card with video RAM of 1GB.
If you are not going to use Blade for gaming, then its powerful graphics is not much of use. So, it totally depends on your requirement.
Price
Since MacBook Pro offers you with so many options in terms of technical specifications, its price range varies from $2,500-$4,100. Based on your needs and budget, you can go with the one which suits you. And Razor Blade would cost you around $2800 – $3100, based on the configuration you choose.
Verdict
Since I am a huge Apple fan, I would always recommend an Apple machine over any other machine. But here, we are comparing two laptops meant for two different categories and purposes.
At one side we have a gaming monster, and at the other we have a status symbol, and programmers' love. If you want a gaming machine, then I would say its Razor Blade for you. But before making any decision, I want you to check out machines like Alienware, but they will fall on the expensive side. Or else, its MacBook Pro for you. I bet, this Mac machine is a complete worth for your money.