Prostar is known for their ultra powerful gaming laptops. Prostar D900F is their Intel Core i7 laptop computer with 12GB DDR3 RAM. This 17 inch display screen laptop computer offers absolute gaming experience.
Whether if would its ultimate graphical support from Nvidia GeForce graphic cards or its 1.5 TB storage capacity, Prostar D900F is made to take your gaming experience to heights.
Specifications:
3.2 GHz Intel Core i7 Extreme 965 processor
nVIDIA GeForce GTX 280M with 1GB DDR3 VGA memory
12GB DDR3 RAM
3 7200RPM Hitachi hard drives making a total of 1.5 TB storage space
17-inch WUXGA display
Intel Wireless 5100AGN
DVD Burner Multi Drive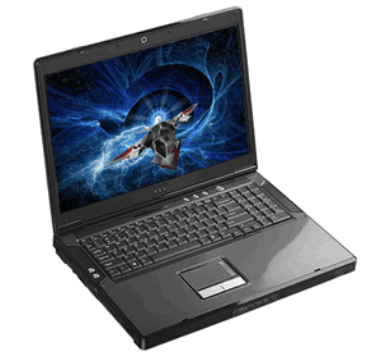 Processor
Prostar adjudges Prostar D900F as the world's first Intel Core i7 laptop computer. No doubt that power offered by Core i7 processors is huge, this makes D900F a powerful, stable and robust gaming laptop computer.
Graphics
No gaming laptop is complete without sound graphics support. This Prostar gaming laptop features nVIDIA GeForce GTX 280M graphic card which offers 1GB of DDR3 VDA memory. So, D900F is capable of offering all the required resources to run any HD game at its best.
Design and Display
They say BLACK is classic, which compeled Prostar to keep D900F in a simple black desgin. Mind you, Prostar D900F is ultra powerful gaming laptop, so you cannot expect it to be compact in size. It weighs 11.78 pounds and is 2.35 inches thick.
This Prostar laptop offers Synaptic touch pad. Its keyboard and complete design is just perfect as it offers you amazing grip so that you can stick with your games for longer.
Its 17 inch WUXGA display screen makes pictures and videos look brilliant and stunning. And that is what you expect from a display screen of any gaming laptop. This is its absolute killer feature.
Memory
You cannot expect a powerful processor to work effectively without heavy RAM. D900F offers massive 12 GB DDR3 RAM, which is more than enough for any game so far developed for computers.
And it also features 3 7200RPM Hitachi hard drives making a total of 1.5 TB storage space. So, you can install all your favorite games on your laptop without worrying much about the availability of storage space.
Verdict
If you are looking for a powerful gaming laptop which can unleash the gamer hidden inside you, then Prostar D900F is a perfect choice. Its powerful processor, massive RAM, huge storage capacity with robust graphical support, it is one of the best in the market.