There are number of free program which help you to play with your photos in order to add special effects to them. PhotoFilmStrip is a free program which allows you to compile pictures to a video. And you can even add music or your own voice to it.
You can add Ken Burns style zooming in/out effect which is the stand apart feature of this amazing software. Not only this, PhotoFilmStrip allows you to add subtitles to it, which is the most innovative feature of all. And you can even add special effects to it like sepia or black and white effects.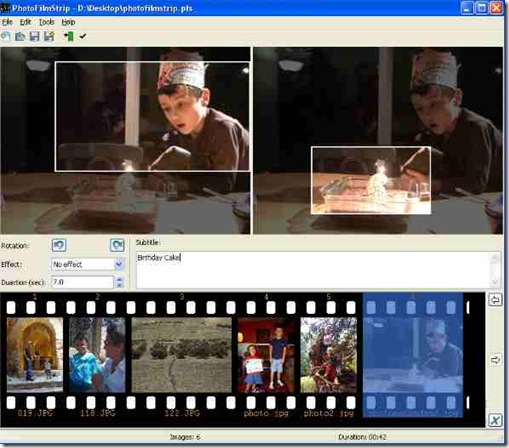 Despite of offering such complex features, the interface of PhotoFilmStrip is comprehensively user friendly. Within few minutes, you can come up with a heart touching video by compiling all your favorite images all together.
Below are the features of PhotoFilmStrip:
User friendly user interface.
Add Ken Burns style zooming in/out effect.
Add music and voice to the videos.
Built your own sub-titles in .SRT format
Customize the settings like resolution and output format.
Click here to download PhotoFilmStrip.