In this we would comparing three entry level DSLR cameras. Out of which, two DLSR cameras are the new entrants in the market too which are Pentax K 30 and Canon EOS 650D.
With more and more user friendly DLSR cameras coming into the market, photography is no longer a hard art to pursue. And on wonder, its a good thing. In this post, we would be comparing, Pentax K 30, Nikon D5100 and Canon EOS 650D.
These cameras are quite close to each other in terms of specifications features on paper. Do check out the below specs comparison if you are in a mood to buy any entry level DSLR camera.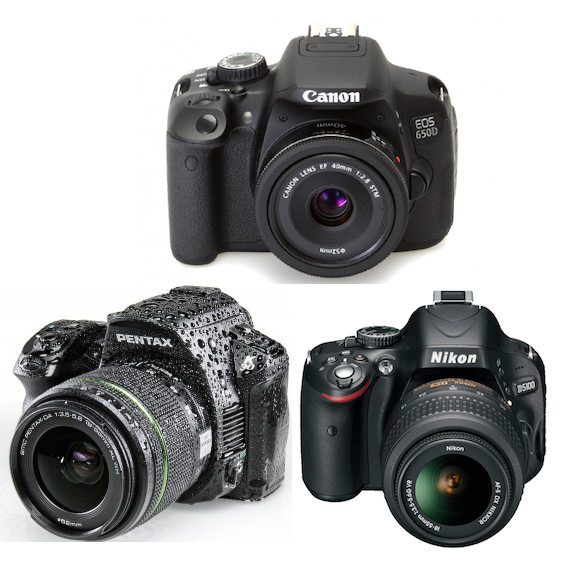 Pentax K 30 vs Nikon D5100 vs Canon EOS 650D – Compare Specs
| | | | |
| --- | --- | --- | --- |
| Specifications | Pentax K 30 | Nikon D5100 | Canon EOS 650D |
| | | | |
| Camera Type | DSLR | DSLR | DSLR |
| | | | |
| Lens Sensor | 16 MP | 16.1 MP | 17.9 MP |
| | | | |
| Screen Size | 3 inch LCD screen | 3 inch LCD screen | 3 inch LCD screen |
| | | | |
| Flash | Yes | Yes | Yes |
| | | | |
| Native Resolution | 4928 x 3264 | 4928 x 3264 | 5184 x 3456 |
| | | | |
| Dimensions | 130 x 97 x 71 mm | 127 x 96 x 78 mm | 129 x 98 x 62 mm |
| | | | |
| Weight | 650 grams | 560 grams | 575 grams |
| | | | |
| Battery | 410 shots | 660 shots | 440 shots |
| | | | |
| Video | 1080p @ 30 frames per second | 1080p @ 30 frames per second | 1080p @ 30 frames per second |
| | | | |
| ISO | ISO 100 – 12800 | ISO 200 – 12800 | ISO 100 – 12800 |
| | | | |
| Minimum and maximum shutter speed | 30 sec – 1/6000 sec | 30 sec – 1/4000 sec | 30 sec – 1/4000 sec |
| | | | |
| Best Price | $850 | $800 | $1,238 / £800 /  €950 (these prices include camera with lens kit) |