Opera has launched its brand new web browser for mobile phones, namely Opera Mini 5 Beta. Yes, Opera has gone Beta now. Opera Mini 5 Beta runs on all Java enabled mobile phones. If you loved its previous version Opera Mini 4.2, then this new beta version is surely conquer your mind. The major change is that Opera Mini 5 Beta has an amazing interface facilitated for touchscreen and keypad control. It allows tabbed browsing with speed dial feature. This beta version is also added with a password manager.
If Opera Mini 4.2 was fast than other default web browsers, then this beta version is faster. Its user interface is so wonderful which include buttons like back, forward, settings, tabs and refresh. Opera Mini 5 Beta is designed to offer a better Internet browsing experience on your mobile phone provided it is compatible to Java platform.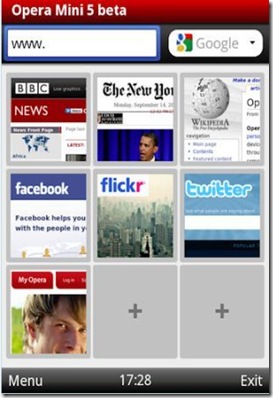 If you are wondering about the reasons to opt for Opera Mini 5 Beta, then here are few:
Attractive design: It has a new, intuitive and advanced look, which is different and better than all other mobile web browsers.
Tabbed browsing: This feature was available with desktop versions but not it is implemented in this Beta version. This provides you a smoother browsing experience.
Touchscreen or keypad control: Opera Mini 5 Beta is meant to offer better control to keypad users as well as touchscreen users.
Password manager: This is an amazing features which enables you to save the passwords af your e-mail accounts, online bank accounts and other login passwords.
Speed Dialing feature: This features allows you to access few Internet favorites right from the opening of the browser.
Download Opera Mini Beta 5 and enjoy the amazing ride of mobile Internet browsing.