Just when it looked like Nokia is falling behind in the race, it fires up the market with its launch of N900 tablet. Nokia N900 was being awaited since a long while because of its amazing looks and unmatched features. Nokia N900 is their first tablet device which is designed to be a smartphone. It has been released as a part of super hit N-series tablets. But Nokia N900 is a product which is a stand out in its own genre and in the N-series tablets. Experts say that Nokia N900 has all the features to dominate the market of smartphones.
N900 is powered by Maemo 5 Operating System. This particular OS makes Nokia N900 so stable that it can handle many tasks in parallel better than any other smartphone available in the market.
Its large and wide screen with the 3-row QWERTY keypad will make the interaction with the phone a pleasure. It even offers an virtual keyboard, if you want to operate it with its highly improved touch screen technology.
Its web browser is powered by Mozilla which is being considered as its secret weapon, as you can experience the internet browsing on Nokia N900 similar to the way you surf internet on you high powered computer. If you were stunned by the imaging quality of the previous N-series tablets, then get ready for an ultimate relish. Nokia N900 has a 5 mega pixel camera with dual LED flash making it a real treat for the people looking for a wonderful camera phone.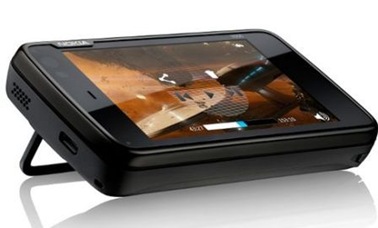 Nokia N900 offers you with 32GB of inbuilt memory and if you are not satisfied by this huge space, then you can even extend it by 16GB adding a micro SD card. Its kickstand enables you to experience the genuine mobile multiplex.
Apart from being a complete multimedia smarphone, Nokia N900 offers you with a GPS navigation system. There are so many wonderful features, that you would discover once you use this next generation smart phone.
Following are the outstanding features of the amazing Nokia N900:
Display Panel : 3.5 inch touch-sensitive widescreen display with 800 x 480 pixel resolution
Processor and OS : ARM Cortex-A8 600 MHz, powered by Maemo 5 OS and PowerVR SGX with OpenGL ES 2.0 support.
Memory :  Up to 1GB of application memory and 256 MB RAM.
Storage Capacity :

32 GB internal storage 16 GB of additional storage capabality

GPS navigation system : Integrated GPS with Ovi Maps application.