In this comparison post, we would be comparing the new but impressive entrant, Nikon D800 with the two champions of the market, Canon 5D Mark II and Canon 7D.
All these CMOS cameras are very much similar in so many aspects, and this is the reason that I am compiling this post, Nikon D800 vs Canon 5D Mark II vs Canon 7D to compare specs of these three powerful cameras.
While buying any gadget, the buyer needs to have his own reasons of buying it. And those reasons are expected to be at utmost nonnegotiable level. And that is how you make a good deal. This specs comparison post on, Nikon D800, Canon 5D Mark II and Canon 7D would let you build your set of reasons if you are planning to buy any of these three digital cameras.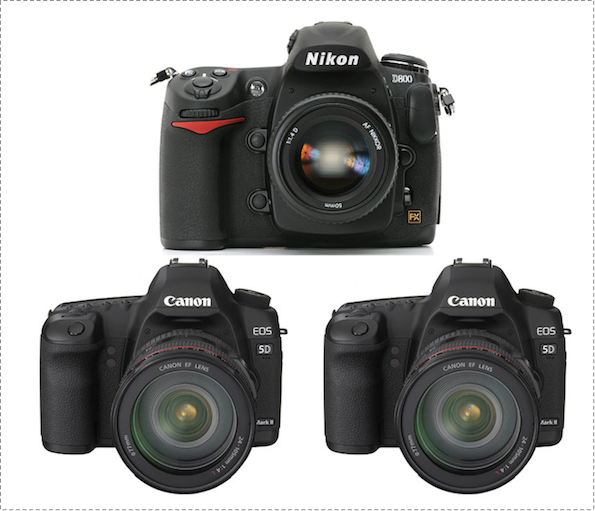 Nikon D800 vs Canon 5D Mark II vs Canon 7D – Compare Specs
Specifications
Nikon D800

Canon 5D Mark II

Canon 7D

Lens Type
CMOS
CMOS
CMOS
Lens Sensor
36.2 MP
21 MP
17.9 MP
Screen Size
3.2 inch LCD screen
3 inch LCD screen
3 inch LCD screen
Flash

Yes
No
Yes
Continuous Shoot

4 fps
3.9 fps
8 fps
Dimensions
146 x 123 x 82 mm
152 x 114 x 75 mm
148 x 111 x 74 mm
Weight
900 grams
800 grams
860 grams
Battery
900 shots
850 shots
800 shots
Video
640 x 424 @ 24fps
1080p @ 30fps
720p @ 25fps
1080p @ 24fps
720p @ 60fps
720p @ 50fps
1080p @ 25fps
720p @ 30fps
1080p @ 30fps
480p @ 30fps
1080p @24fps
480p @ 25fps
720p @ 60fps
480p @ 30fps
1080p @ 24fps
1080p @ 25fps
720p @ 25fps
720p @ 30fps
1080p @ 30fps
Light Sensitivity

6,400 ISO , 25,600 ISO(boost)
6,400 ISO , 25,600 ISO(boost)
6,400 ISO , 12,800 ISO(boost)
Shutter Speed

Max – 1/8000sMin – 30 s
Max – 1/8000sMin – 30 s
Max – 1/8000sMin – 30 s
Best Price
$3,000
 $2,999
$1,900