With the arrival of Asus Transformer in the market, the market of tablet PCs have again heated up. So, this makes us compare some of the best tablet PCs in the market which are Motorola XOOM vs Asus Transformer vs Samsung Galaxy Tab 10.1. All these are Android tablet PC running on the latest Android 3.1 Honeycomb.
So, if you are an Android lover and looking to buy a tablet PC, then these 3 would surely be topping the list. So, this specs comparison between these tablet PCs shall help you out with this confusion by letting you have a look at its specs and decide the better one for you.
Other than the factors that we can compared below, there is an important thing one would consider before buying a tablet and that is the price. So, the once which meets his needs and fits his pocket is the one you should go with.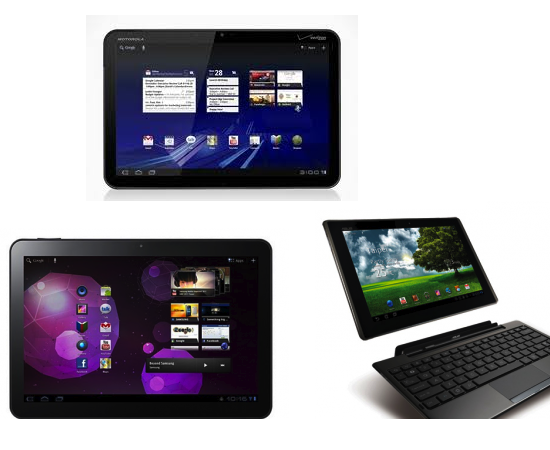 Motorola XOOM vs Asus Transformer vs Samsung Galaxy Tab 10.1 – Compare Specs
| | | | |
| --- | --- | --- | --- |
| Specification | MotorolaXOOM | Asus Transformer | Samsung Galaxy Tab 10.1 |
| Operating System | Android Honeycomb | Android Honeycomb | Android Honeycomb |
| Processor | 1GHz dual-core Tegra 2 processor | 1GHz dual-core NVIDIA Tegra 2 | 1GHz dual-core NVIDIA Tegra 2 |
| Screen Size | 10.1 inches | 10.1 inches | 10.1 inches |
| Screen Resolution | 1280 x 800 | 1280 x 800 | 1280 x 800 |
| Graphics | – | – | PowerVR SGX 540 |
| RAM | 1GB | 1GB / 512 MB | 512 MB |
| Internal Storage | 16 / 32  GB | 8 /16 / 32 GB | 16 / 32 / 64 GB |
| Expansion | None | microSD | – |
| Camera | 2 MP front facing and 5 MP 720p HD rear facing | 1.3MP front facing and 5MP rear facing | 2 MP front facing camera and 3 MP rear facing camera |
| Weight | 730 grams | 680 grams | 595 grams |
| Battery | 9 hours | 16 hours | 9 hours |
| Price | $500 – $750 | $400 – $700 | $500 – $700 |