Motorola Inc. announces an ultimate and potent handheld device for industrial class which is supposed to take productivity, efficiency and operation techniques of you business to a higher level. This device is named as MC9500 which is the upgraded version of the world's best selling MC9000. This fact takes MC9500 to a next level in the aspect of meeting you business requirements. It is the first mobile computer based on Motorola's second-generation mobility architecture.
The rugged Motorola MC9500 is provided with 3.5G WAN which would enable business organizations to deploy MC9500 devices at different places and setup their exclusive 3.5G network to operate their business in a smooth and vigilant fashion. There is no wonder, if MC9500 influence the way businesses are run. According to Motorola Inc., for the businesses which involve field work, transportation, public safety services, direct delivery agencies and logistics, this monster machine allows them to switch the networks without exchanging their handheld devices.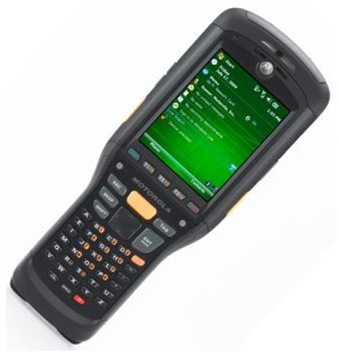 Following are few of the highlighting features of Motorola MC9500:
It runs on Windows  Mobile 6.1 and is powered by Marvell XScale PXA320 processor running at 806MHz.
It is facilitated with IST (Interactive Sensor Technology) which supports a host of many motion-sensing applications.
3 Megapixel auto focus digital camera which can be used as scanner or image capturing device.
GPS with 802.11 a/b/g support.
3.7 inch color display.
MicroSD slot supporting 16GB of extended storage.
1D laser scanner.
Motorola provides an amazing service support to MC9500. Since the day of purchase, the company will take of all the repairs which include broken and damaged external accessories, keypads, displays and components. So, it allows you to run your business with a peace of mind.
With MC9500, Motorola is introducing its first universal accessory system to manage space for power packs, charging cradles and cables. It has been successfully tested in the fields like logistics and store deliveries. With its innovative and wonderful capabilities like 3.5G WAN, Motorola MC9500 is a powerful handheld device which would improve your business.