Mionix might not be a known brand, but its latest laser gaming mouse namely Mionix Naos 5000 is an absolute killer. This gaming mouse features laser sensor technology which offers you ultimate gaming experience.
Mionix Naos 5000 offers incredible grip to all the five fingers. With its 5040dpi laser sensor and customizable LED light system this is one of the fastest responsive laser gaming mouse present around.Naos offers 128KB of inbuilt memory and 7 programmable buttons to enhance your gaming experience.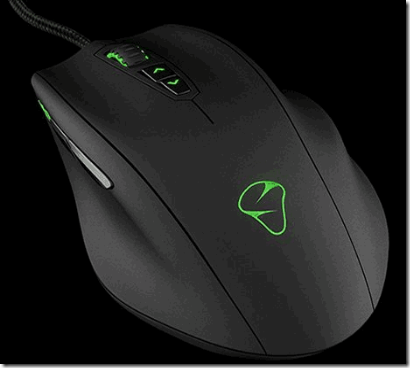 Here is what Mionix says about Mionix Naos 5000:
A passioned hunt for perfection has come to an end. Mionix Naos 5000 has seen its first light of day. Get ready to meet a gaming mouse with an incredible ergonomic comfort and stunning technology that offers an outstanding gaming experience. Mionix Naos 5000 features a new innovative weight tuning system for an optimal weight distribution of the mouse, carefully selected high-end components and leading laser technology. Stunning features such as adjustable lift-distance, 5 onboard profiles, extensive macro settings and customizable LED-lights give you the opportunity to customize the mouse exactly to your liking.
Below are the specifications of Mionix Naos 5000 Laser Gaming Mouse:
Truly ergonomic design which offers incredible grip for all your five fingers.
Its Balanced weight tuning system lets you control the mouse at the best-est way.
Its 5040 dpi laser sensor is evident to its strength and robustness.
Its rubber coating on the surface lets you handle it perfectly for great amount of time.
LED lights give a blazing look to any device and its Customizable LED light system makes this powerful gaming mouse look gorgeous
You can record your macros and store your settings in the mouse itself as it offers 128 kb built-in memory.
You need not worry about its drivers as it is a plug and play device
It allows you to customize 3 different DPI settings so that you can easily change them while playing games.
It offers 7 programmable buttons which can be assigned any key as per your comfort levels.
Its Surface Quality Analyzer Tool lets you measure tracking quality on a certain surfacetracking.
Although Mionix is not a big brand but it is expected that Naos 5000 will bring huge success. It market price is around 70 Euros. It is not a heavy price looking at the number and kind of features Mionix Naos 5000 offer.