Keyloggers are the greatest threat in this cyber age. This is the world where people prefer doing most of their work online like shopping, banking, work, and even finding a partner.
And in this scenario, ensuring your data protection is of paramount importance. Whether its your passwords, account IDs, friends contact details, or bank account details, its your job to ensure that no body is stealing those details.
Since smartphones let you shop, bank, mail and do every other online activity that you can do on your computer, keylogging attacks have become a threat to smartphone users also. In this post, I would be talking about a free anti virus program which specializes in protecting your data.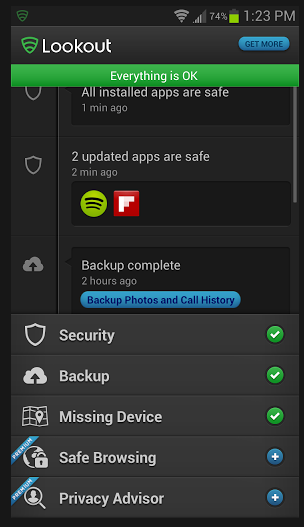 Lookout Security & Antivirus is an anti virus package for Android which specializes in protection your device from virus and data theft attacks. Its 30 million user base is testimony to its capabilities. Below are the features of this anti virus program:
Detects and removes the virus hidden in the form of contacts, apps, emails attachments, media or any other format

Makes sure that you are not dialing a spam number, which would delete your phone data once the line is connected
Block unsafe URLs
Its Privacy Advisor lets you understand what sort of data is being accessed by each app
Lets you spot your phone on Google Maps from Lookout.com
Lets you backup data and restore it when required
Many Anti Theft features which would let you spot your lost smartphone
In my opinion, is a must have app for any Android device. You are bound to use you email, bank accounts and other online accounts, and having a protection would certainly help. Try Lookout Security & Antivirus.