No one of us have a single e-mail or IM Client ID. We maintain more number of IDs for multiple purposes. We dedicate one account to stay in touch with family and friends while for official purpose, we maintain other ID. You must have felt the requirement of logging into all your GTalk accounts simultaneously. Once you read this whole article, you can make your wish come true.
Everyone knows that such tricks works on Yahoo Messenger and MSN Messenger by adding some patches or by changing registry values. But many of us unaware that we can even work out such trick on GTalk also.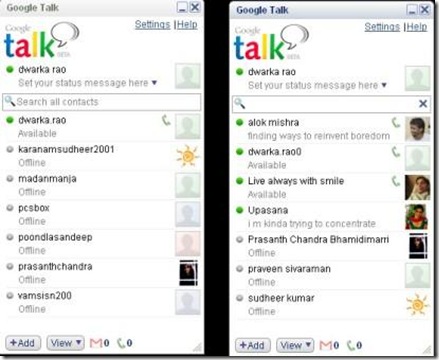 This whole procedure is very simple. Just a small alteration in the properties of its shortcut, and the work is done. Below is the procedure:
Step 1 : Right Click on the shortcut of the GTalk and click on Properties.
Step 2 : Click on the Shortcut tab and place the cursor in the Target area. And change its contents as follow:
"C:\Program Files\Google\Google Talk\googletalk.exe" /nomutex
Step 3 : Click on Apply and then Ok.
What are waiting for now? Your work is done. 😀 Now double click on that shortcut and log in to a account. And double click on the same shortcut again and log on to your another account. Now, you can log on multiple GTalk accounts simultaneously.
Try it and surprise your friends. 😛