As a Mac owner and an iPod owner, I know how powerful Genius Mix feature of Apple is. If you are not aware of Genius Mixes of iTunes, then here is some sunlight. This feature actually creates playlists automatically based on its genre and style.
Didn't make sense? Well, say you are listening to a Iron & Wine song, and you suddenly go into a mode, where you wish to listen to such songs. In such situations, Genius Mixes could come handy as it can create such playlists itself. And trust me, its quite accurate.
Now, if you are looking for such feature on your Android device, then you need to check this free app, Jukefox (earlier known as Museek). This is actually a music player, which comes with a playlist generator kind of feature, which is pretty much similar to Genius Mixes of iTunes.
When are overwhelmed with your music collection, you tend to lose control over what you wish to listen. I have a huge collection of songs, and I tend to play them in shuffle mode most of the times. But, how about the having a playlist (totally shuffled one), with higher probability of you liking it because its does some calculations and then generates playlists.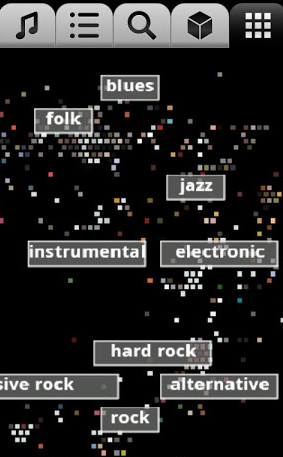 In addition to the above mentioned features, there are few more amazing characteristics of this app which lets you listen to right music at the right time. Its auto generated tag clouds is one such feature which lets you find music of different styles and genres easily.
Jukefox also downloads album covers automatically. And if you are a Last.fm user, you would thrilled to know that it scrobbles on Last.fm too.
Below are some of the features of this incredible music player cum playlist generator for Android:
Pretty layout of albums, songs and artists in 2D and 3D

Incredible shuffling mode which detects your mood
Auto functional tag clouds
Downloads album covers automatically
Scrobbles to Last.fm
Shake skip
I haven't tried to hype this app even a little bit. I just want you to try it once, and see how amazing your music listening on Android becomes.