This post would be throwing light on the Windows smartphones available in the market. Nokia Lumia 800 and Nokia Lumia 710 are among the early smartphones in this league of Windows Mango smartphones.
In this post, I would be comparing those two Windows Mango smartphones by Nokia with the brand new entrant into the market, HTC Titan 2.
Titan 2 looks incredibly gorgeous and is no less that a monster on paper. So, if you have been thinking of going for a Windows Mango smartphone, then check out this comparison post, HTC Titan 2 vs Nokia Lumia 800 vs Nokia Lumia 710 as it would prove to be of some help.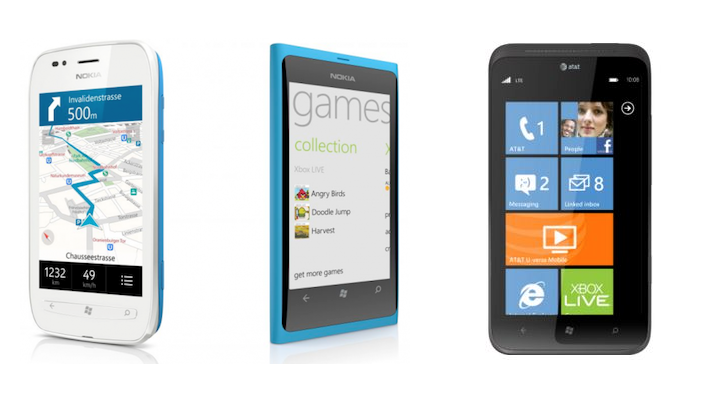 HTC Titan 2 vs Nokia Lumia 800 vs Nokia Lumia 710 – Compare Specs
Processor
When it comes to processor, both Nokia Lumia 800 and Lumia 710 runs on a same processor which is 1400 Mhz Qualcomm MSM8255 processor. HTC Titan 2 runs on 1.5 GHz Scorpion Qualcomm S2 Snapdragon and that is some power, mind you.
Display
Both Lumia 800 and Lumia 710 incorporate a 3.7 inch display. Display screen of Lumia 800 is based on Super AMOLED technology whereas Lumia 710 flauts ClearBlack TFT screen. HTC Titan 2 features a 4.7 inches S-LCD capacitive touchscreen. And resolution of the display screens of all these smartphones is 480 x 800 pixels.
Memory and RAM
Both these Windows 7.5 smartphones are powered by 512 MB of SD RAM. And with similar processor and RAM, you can expect equally powerful performance from both these smartphones. Even HTC Titan 2 runs on 512 MB of RAM.
These phones do no feature any micro SD slot, and Lumia 800 and HTC Titan 2 have 16 GB of inbuilt storage memory where as Lumia 710 has it of 8 GB.
Camera
So far we have not seen much of difference between these Lumia smartphones but this is the section where you would find the difference. Lumia 800 offers an incredible 8 MP camera with Carl Zeiss optics and dual LED, capable of recording HD video. Where as the other one, Lumia 700 features a 5 MP camera with the similar features.
Although HTC Titan 2 features a 16 megapixel camera, but it would be interesting to compare the photo quality of the images taken by it and Lumia 800.
Battery
Lumia 800 runs on a 1450 mAh battery which gives you a talk time of 13 hours on 2G and 9.5 hours on 3G with standby time of 335 hours. Where as, Lumia 710 runs on 1300 mAh battery which gives you a talk time of 10 hours on 2G and 7.6 hours on 3G with standby time of 400 hours.
HTC Titan 2 runs on 1730 mAh battery offering a talk time of 4.3 hours and standby time of 293 hours.
Dimensions and Design
On paper both these Windows Mango smartphones might look similar in so many aspects but when it comes to design, both of them are totally different. Lumia 710 has dimensions of 119 mm x 62.4 mm x 12.5 mm and weighs 126 grams. And Luma 800 measure 116.5 mm x 61.2 mm x 12.1 mm and weighs 142 grams. With dimensions of 132 x 69 x 13 mm, HTC Titan 2 makes into the market as a gorgeous Windows smartphone. It weighs 147 grams.
Although Windows Mango operating system has not been a phenomenon like Android but is surely promising. HTC Titan 2 is a signal to the smartphone market that there is more to come under the label of Windows Mango smartphone.