We have three most loved laptops in the market listed in this post. Two run on Windows where as one is a Mac machine. In this comparison post we would try to compare all the three laptops, HP Envy 14, MacBook Pro 13 and Dell XPS 15 in such a way that you can get the clear difference between these three powerful laptops.
There is one thing common between these three laptops, and is its gorgeous looks. Each one is different in looks, but they are equally incredible in looks. And this HP Envy 14 vs MacBook Pro 13 vs Dell XPS 15, comparison post will let you decide the one which you should go for.
While making the decision, make sure that you do not comprise with your requirements and budget. Here is the specifications comparison of these popular laptops.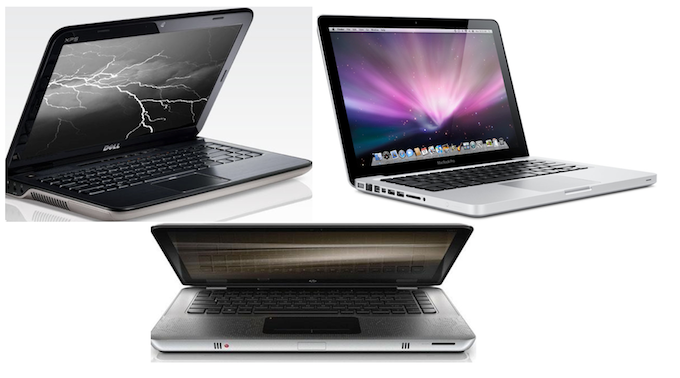 HP Envy 14 vs MacBook Pro 13 vs Dell XPS 15 – Specs Comparison
Processor
Lets go with MacBook Pro first. You can go with 2.2GHz or 2.4GHz quad-core Intel Core i7 / i5 / i3 processor and if you want, you can also opt for 2.5GHz quad-core Intel Core i7 processor.
And HP Envy 14 runs on 2.4 GHz Intel Core i7/ i5 /i3 450M processor, which surely like the same as that of MacBook. And Dell XPS 15 is powered by 2.53 GHz Intel Core i7 /i5 /i3 460M Processor.
There isn't a clear cut winner in the section of processors. But while you are choosing your laptop, go with the model, which fits into your budget and also meets your needs.
Display
15.6-inch 1366 x 768 glossy display with LED backlighting is what you would get with Dell XPS 15.  And MacBook Pro incorporates 15.4-inch (diagonal) LED-backlit glossy or optional antiglare widescreen display with support for millions of colors. I have been using a MacBook since 8 months and I am in love with its display. Its the Apple Trademark thing to provide incredible display. (Please pardon my biased opinion for Mac).
And HP Envy's 14.5″ LED-backlit HD display with picture resolution of 1600 x 900 pixels is no less that of MacBook's and Dell XPS's. For me, MacBook and HP Envy are the winners in the display section just because of its better resolution.
Storage and Memory
I wont be commenting on storage as you can find models with different storage capacities. So, once you are done choosing the laptop, you can check with the vendor for the different models available. Then you can go with the one which meets your storage needs.
HP Envy 14 runs on 4GB DDR3 RAM (2x 2GB), which is pretty good. Even Apple MacBook Pro runs on 4GB (two 2GB SO-DIMMs) RAM. So, the story does not change for Dell XPS 15, as its the same.
But again, if you wish to go with more powerful RAM, then check with the vendor for the models available because all these laptops do come with more powerful RAM.
Graphics
Now this is an aspect which actually turns out to be the deciding factor if you are looking for a multimedia laptop. HP Envy 14 features ATI Mobility Radeon HD 5650 with 1GB VRAM and Intel GMA HD Switchable Graphics which makes it a powerful gaming and multimedia laptop.
Dell XPS 15 runs on NVIDIA GeForce GT420M with 1GB DDR3 which is equally good to that of HP Envy 14. And coming to MacBook, its AMD Radeon HD 6750M graphics processor with 512MB of GDDR5 memory on 2.2GHz configuration and AMD Radeon HD 6770M graphics processor with 1GB of GDDR5 memory on 2.4GHz configuration would be serving to your graphic needs.
If you are looking for a gaming machine, then go for HP Envy 14 or Dell XPS 15 as they are meant for that. But MacBook Pro would not prove to be a gaming machine. But no Mac is.
MacBook Pro does make a powerful multimedia laptop, and this is the reason most of the professional music makers, movie makers, artists, designers, go for MacBook Pro.
Price
This is the prime factor which actually lets you decide what you want to buy. And this fact stands firm for all the materialistic things. Dell XPS 15 starts at $900, MacBook Pro at $1200 and HP Envy 14 at $1050. Now this price will vary depending on the specifications that you would go with.
So make a wise decision while choosing your machine among, HP Envy 14, Dell XPS 15 and MacBook Pro 13. You have to consider you needs and budget while making your decision and make sure that you do not end up making an impulsive buy as all these three laptops are meant for different needs.