This is what I call a super comparison. I am a huge Apple fan so pardon me if I get little tilted towards MacBook during the comparison, but I will try my best to be honest.
In this post, we would be comparing HP Envy 14 Spectra, MacBook Pro and MacBook Air. These are the three most gorgeous and powerful laptops available in the market. You check them out, and I bet you would want to have them. That is how these laptops have been designed.
So, if you are willing to buy any of these laptops but are skeptical about the decision, then this specs comparison post, HP Envy 14 Spectra vs MacBook Pro vs MacBook Air would  prove to be a great help.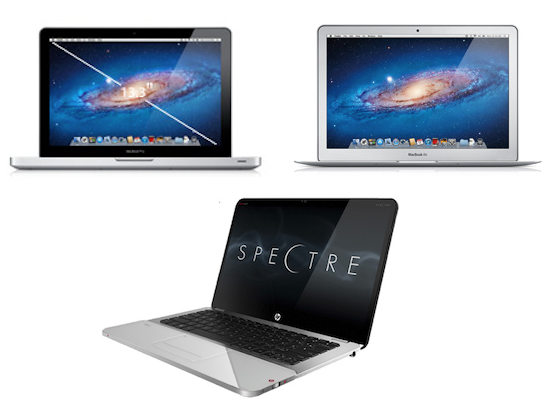 HP Envy 14 Spectra vs MacBook Pro vs MacBook Air – Compare Specs
Processor
HP Envy 14 Spectra laptops run on Intel Core i5 and i7 ULV Processors, which are the most powerful processors meant for personal computers. If you go with MacBook Pro you have an option to choose between 2.4GHz dual-core Intel Core i5 processor and 2.8GHz dual-core Intel Core i7 processor. MacBook Air 13 runs on 1.6GHz dual-core Intel Core i5 processor and its high end model runs on 1.8GHz dual core Intel Core i7 processor.
Memory and RAM
This part of the specifications is something which completely depends on you because you would be taking the eventual decision as each laptop comes as number of models with different configurations.
With MacBook Air 13, you get to choose between 2GB and 4 GB, whereas with MacBook Pro 13 and HP Ency 14 Spectra, you get to decide between 4GB and 8GB.
If you are looking for the one with good storage capacity, then MacBook Pro 13 is the only option as it is the only one among these three laptops which feature hard drive (500GB or 750GB), and optional solid state flash drive (128GB, 256GB, or 512GB). With
MacBook Air 13, you will have an option between solid state flash drive of  128 GB and 256 GB. And with HP Envy 14 Spectra, the choice gets narrow down to 128GB or 256GB of flash memory.
Display
Spectra's 14″ diagonal HD with Radiance LED backlit display offers brilliant display. Whereas both the Apple laptops feature a similar display with 13.3-inch (diagonal) LED-backlit glossy widescreen display.
Graphics
Graphics and video support prove to be a crucial factor while choosing a laptop or computer for you. MacBook Pro 13, Envy Spectra and MacBook Air 13 feature Intel HD Graphics 3000 with 384MB of video RAM. This is so close.
Design
One of reasons why Apple's laptops are so popular is because of its incredible looks. With aluminum chasis, MacBook Pro and MacBook Air are undoubtedly the most gorgeous laptops ever built by man. MacBook Air measures 0.3-1.7 cm H x 30 cm W x 19.2 cm D and weighs 1.08 kgs. Whereas its ultralight unibody model measures 0.3-1.7 cm H x 32.5 cm W x 22.7 cm D and weighs 1.35 kgs.
Well, MacBook Pro 13 measures 2.41 cm H x 32.5 cm W x 22.7 cm D and weighs 2.04 kgs and Envy 14 Spectra measures 12.88″Wx8.7″Dx0.79″H and weighs just under 4 lbs.
Additional Features

Envy Spectra comes with HP TrueVision HD Webcam whereas both the Apple laptops come with FaceTime camera.
Some of the additional features of  MacBook Air 13 are Thunderbolt port, SD card slot, Two USB 2.0 ports, Bluetooth 4.0 wireless technology, WiFi, Stereo speakers, Omnidirectional microphone.
And MacBook Pro 13 would feature Thunderbolt port, SD Card slot, Stereo speakers with subwoofer, omnidirectional microphone, combined headphone/line in, Ethernet, WiFi, Bluetooth 2.1 + EDR.
HP Envy Spectra features Radiance backlit keyboard which senses your fingers and gets lighten up. Other features include Beats Audio with 2 high-performance speakers, External jogger dial, Integrated HP Wireless Audio, Integrated dual omni-directional digital microphones.