Hardware do tend to act dormant with time. Whether it would be computer, laptop or even a smartphone for that matter, each of these devices tend to deteriorate in performance with time.
Now seeing your Galaxy Note performing slow like a snail (or may be better) does hurt because you have spent your hard earned money on it. There are ways which would let you improve things with your Note in this case.
Before you go ahead with this post, I would like to make it clear that we WOULD NOT be making use of illegal hacks or tricks to get the job done. Hence, you wont be playing with your Galaxy Note's warranty while you are tying to speed up Galaxy Note.
Most of these tips would work to increase the speed of any Android device. I have just compiled this post in a Note specific manner just to make the steps straight forward.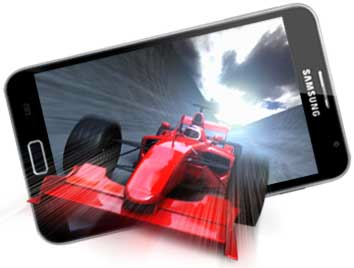 How To Speed Up Galaxy Note – Best Ways
Mark The Current Status Of Your Device
Now before you ahead and implement some of the steps to speed up Galaxy Note. There is a free Android app named, Quadrant Standard which would scan your device, test it and would show you the status of your Android device.
So, once you are done putting the below steps in practice, you can again check the status of your device by running this app. It actually lets you compare and see that the performance has improved.
Get Rid Of Apps You Do Not Use
This is a wise advice that you should not equip your Galaxy Note with unnecessary apps. So spend some time and uninstall all the apps (remove them completely) which you believe do not serve much of purpose.
Use Trusted Apps
Android market is HUGE. And I would like to recommend that one should not reach out any third party apps which are not part of Android Market. I am not quoting that all the third party apps does bad, but most of them do. So its not worth taking risk.
Where To Put Apps On
If you can install apps on microSD card, rather than doing it on phone memory does help things. I bet you would see the difference the very instant you run the app.
Stay Away From Apps Of Few Sorts
Stay away from Task Killer apps and Battery Saving apps. Yes, Battery Saving apps does save your battery at the cost of your phone's performance. And I am sure that this is not what you are looking for.
Apps like Live Screensaver and Wallpaper are not healthy for your device as they keep on consuming your Note's memory. And also make an habit of not running so many apps in the background.
Keep Clearing Cache
You should not let cache piling up in your Note's memory or memory card. It does not do good to the performance of the device. Add the task of removing cache files to your daily chores list so that you do not miss it any case.
Reset Your Device Once
If its possible for you, plan a hard reset of Galaxy Note. Make sure that you backup your Galaxy Note before doing this as data is not supposed to be lost, no matter how useful or useless it is.