Adobe Air Applications can be installed on any Operating System. But here is the help to remove Adobe Air Applications from Linux OS.
Irrespective to the reason behind uninstalltion of the Adobe Air Applications from your Linux powered computer, Uninstaller for Adobe Air is a free program which lets you remove any sort of Adobe Air App from your computer.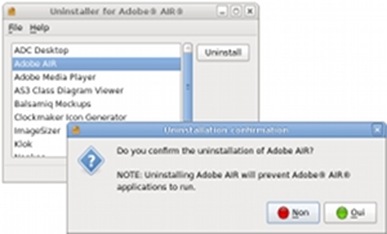 Uninstalling such applications on Linux computers might prove to be a tedious task because of the command system and all. But this free program namely, Uninstaller for Adobe Air lets you handle the whole process of uninstallation with so much of ease.