Kindle for PC is a free program which lets you access and read all the Kindle e books on your computer. Without Kindle e-book reader, this program allows you to make the best of the innovative Kindle technology.
With Kindle for PC, you can instantly start using the Kindle books. Below are the steps which will help you to access / read Kindle Books on you computer:
Step 1: First, download the program namely Kindle for PC on your computer. Click HERE to download it for free.
Step 2: Once you download the program, install it on your computer and launch the program.
Step 3: Now, it will ask you do login using your Amazon account. But you can skip the step and enter into the program.
Step 4: Now you can easily open any of the Kindle e book and start reading it.
And if you are willing to buy any of a Kindle e book, then simply click on the button labeled as Shop in Kindle Store. And once you download it, you can easily sync those books with your Kindle for PC.
There are number of BEST PORTABLE e BOOK READERS in the market, but if you want to relish such experience on PC, then Kindle for PC is for you.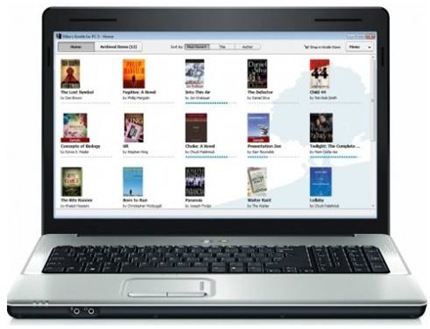 Kindle for PC is one powerful and useful program that every e book reader would love. With Kindle for PC, you need not read your e books on any of the PDF or PDF like program. Below are some of the features offered by Kindle for PC:
Amazing user interface
Lets you buy, download and sync Kindle books easily
Offers 10 different font sizes
Easy navigation
Allows you bookmark any page
And almost every feature offered by Portable Kindle e-book reader