Application Safer is an amazing Android lock app which lets you lock your applications on Android device like smartphone, tablet pc. With this Android app, you can keep your apps safe from other ( unwanted ) users.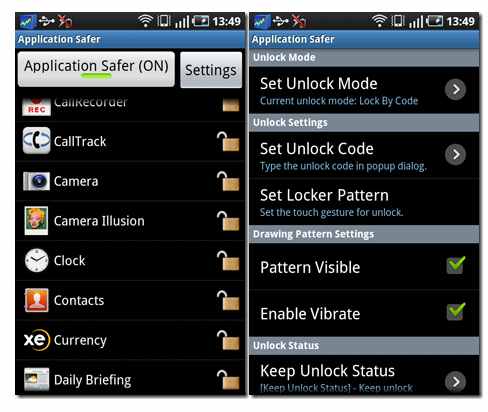 Smartphone is all about applications, and having privacy is one critical issue. And all the  Android smartphone users always wonder if there is way to lock applications on their Android device. Application Safer is one simple and light wight app, which could be the right Android lock app that you were looking for.
Once you install this Android lock app, Application Safer, it will prompt you to enter the passcode which would be the password that would unlock your Android apps. By default, "hello" would be the passcode.
Using this Android lock app, one could easily lock any third party or default app just by a single tap. And you can later easily unlock that app using the set passcode.
You can even customize this Android lock app as you wish. Application Safer is one of the must have Android apps for your smartphone. Install it, customize it and easily lock applications on Android. Below is its QR code.