We have lately told you about how to root Kindle Fire and in this post we would talk on how to install Android Market on Kindle Fire.
If you are looking for a device which would serve to your reading needs, then there is no better device than Kindle Fire. Alright, this post is not about boasting this incredible ebook reader, so lets talk about things why you are reading this.
Amazon has offered the complete code of Fire firmware, which openly invites hackers to root it although it is not official. Anyways, we bring you with the steps to install Android Market on Kindle Fire.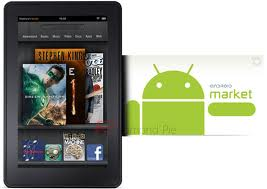 Steps To Install Android Market On Kindle Fire
First we need to have a rooted Kindle Fire. We have already shared a good tutorial on, so just follow the steps to complete it. Apart from that, you need the below files and apps:
To start with, navigate as Settings > Device on your Kindle Fire and switch ON the Allow Installation of Application From Unknown Sources option.
Copy the above downloaded .apk files Google Services Framework and Vending on the micro SD card of your eBook reader.
Now launch Root Explorer and install GoogleServiceFramework.apk on your Kindle using it.
Once it is done, you have to move change the permissions on Vending.apk. And for that, hold it for quite a while and when a popup Window appears, tap on the Move button and navigate it as System and in place of App RO option, choose it as Read Write.
And then copy the Vending.apk file to this folder. And a long press on Vending.apk will let you change permissions now. When it prompts, change it to (RW-R-R).
Now reboot your device as you are all set for the installation of launcher. Now copy GoLacuncher.apk somwhere on your device and use Root Explorer to install it.
Once it is installed, tap on the home button and launch the program on your device. That is it, now you can access Android Market on Kindle Fire.
This was the step by step procedure to install Android market on Kindle Fire. Please try and let us know if you like it.